Copyright
©The Author(s) 2015.
Published by Baishideng Publishing Group Inc. All rights reserved.
World J Gastrointest Endosc.
Mar 16, 2015;
7(3): 162-168
Published online Mar 16, 2015. doi: 10.4253/wjge.v7.i3.162
Intentional ingestions of foreign objects among prisoners: A review
David C Evans, Thomas R Wojda, Christian D Jones, Andrew J Otey, Stanislaw P Stawicki, Department of Surgery, the Ohio State University, Columbus, OH 43210, United States
Author contributions: All authors contributed to this manuscript.
Conflict-of-interest: The authors have no relevant conflicts of interest regarding this work.
Open-Access: This article is an open-access article which was selected by an in-house editor and fully peer-reviewed by external reviewers. It is distributed in accordance with the Creative Commons Attribution Non Commercial (CC BY-NC 4.0) license, which permits others to distribute, remix, adapt, build upon this work non-commercially, and license their derivative works on different terms, provided the original work is properly cited and the use is non-commercial. See: http://creativecommons.org/licenses/by-nc/4.0/
Correspondence to: David C Evans, MD, Department of Surgery, the Ohio State University, 395 W 12th Ave #634D, Columbus, OH 43210, United States. david.evans@osumc.edu
Telephone: +1-614-2939348 Fax: +1-614-2939155
Received: August 22, 2014
Peer-review started: August 23, 2014
First decision: November 18, 2014
Revised: December 10, 2014
Accepted: December 18, 2014
Article in press: December 19, 2014
Published online: March 16, 2015

The intentional ingestion of foreign objects (IIFO) is described more commonly in prison populations than in the general population, with an estimated annual incidence of 1 in 1900 inmates in our state correctional facilities. Incidents often involve ingestion of small metal objects (e.g., paperclips, razor blades) or other commonly available items like pens or eating utensils. Despite ingestion of relatively sharp objects, most episodes can be clinically managed with either observation or endoscopy. Surgery should be reserved for those with signs or symptoms of gastrointestinal perforation or obstruction. For those with a history of IIFO, efforts should focus on prevention of recurrence as subsequent episodes are associated with higher morbidity, significant healthcare and security costs. The pattern of IIFO is often repetitive, with escalation both in frequency of ingestions and in number of items ingested. Little is known about successful prevention strategies, but efforts to monitor patients and provide psychiatric care are potential best-practice strategies. This article aims to provide state-of-the art review on the topic, followed by a set of basic recommendations.
Core tip: Intentional ingestion of foreign objects typically involves ingestion of small objects (e.g., paperclips, razor blades, pens, eating utensils). Most episodes can be managed with either observation or endoscopy. Surgery should be reserved for those with signs or symptoms of gastrointestinal perforation or obstruction. Due to the documented pattern of escalation, efforts should focus on prevention of recurrence as subsequent episodes are associated with higher morbidity, and significant healthcare and security costs. There are no proven prevention strategies, but efforts to closely monitor patients and provide early psychiatric intervention are among recommended best-practice strategies.
---
Citation: Evans DC, Wojda TR, Jones CD, Otey AJ, Stawicki SP. Intentional ingestions of foreign objects among prisoners: A review. World J Gastrointest Endosc 2015; 7(3): 162-168
---
INTRODUCTION
Intentional ingestion of foreign objects (IIFO) is a serious problem that chronically affects the United States prison population. Although other non-prisoner patients, specifically those with severe psychiatric conditions, have been reported to have the propensity toward IIFO, the prison population seems unique in that the magnitude of the problem is especially high[1-3]. It has been estimated that up to 1500 deaths may be attributable to IIFO annually in the United States alone[4]. IIFO is a seemingly preventable phenomenon that is associated with high costs of care as well as security costs for transporting and guarding inmates while hospitalized[5]. Health care costs associated with IIFO accounted for $6.5 billion of the $36.8 billion spent to manage the correctional system budgets of 44 states[6]. In a recent study, IIFO episodes were associated with healthcare-related median charges between $4683 and $7698 for those evaluated in the emergency department and admitted[5]. Male sex, incarceration, and psychiatric disease are the predominant factors associated with IIFO[7].
The management of IIFO was revolutionized by the widespread adoption of endoscopic techniques that can be used for retrieval of accessible ingested objects[8]. The prisoner population presents unique challenges due to the multifactorial interaction of psychiatric disease, the (less likely) potential for secondary gain, and the escalating nature of recurrent IIFO. Inmates treated for IIFO often return after variable time intervals having ingested larger, more dangerous, or more toxic objects[2]. These extenuating factors should prompt careful consideration of treatment options as overly aggressive treatment can often lead to disastrous complications.
LITERATURE SEARCH
An exhaustive literature search was performed using the terms "foreign body ingestion", "foreign object ingestion", "intentional ingestion", "swallowed object", and "ingestion". We utilized the United States National Library of Medicine NIH PubMed service, as well as Google™ Scholar to identify as many pertinent English literature sources as possible. After narrowing down the publication list to case reports, case series, reviews, retrospective and prospective studies, the search was further focused on epidemiology, diagnosis, management, and prevention as additional search terms. Results were tabulated, with all major studies on the topic published to date and compiled into a comprehensive, definitive list (Table 1).
| | | |
| --- | --- | --- |
| Year | IIFO incidents seen (n) | Total prisoners incarcerated[12] (n) |
| 2006 | 17 | 48534 |
| 2007 | 20 | 49691 |
| 2008 | 22 | 50371 |
| 2009 | 47 | 50371 |
| 2010 | 26 | 50944 |
| | 132 | 249911 (5-yr census) |
EPIDEMIOLOGY
The epidemiology of intentional foreign object ingestions continues to be poorly understood. Most literature focusing on foreign object ingestions is in the pediatric literature, where the size of the gastrointestinal (GI) tract is smaller and many objects become lodged in the pharynx or esophagus posing an aspiration, toxicity, or erosion risk[9-11]. Psychiatric and prison populations account for the majority of adults presenting with foreign object ingestions, the vast majority of which were non-accidental[2]. Due to the unique characteristics of these populations, relatively few of these patients tend to present to community hospitals. In the United States these patients are typically cared for in "safety net" hospitals, making IIFO a relatively high-frequency occurrence in select hospitals. While a general IIFO incidence in the community is not known, the annual incidence of IIFO requiring evaluation in the emergency room or hospital from 2006-2010 in the prison population in the State of Ohio was 0.0528% or approximately 1 in 1900 inmates, making the disease quite rare in this high risk population (see Table 1). Unfortunately in the prison population, recurrent ingestions are also relatively more common[2,5]. The epidemiology of recurrent IIFO is less well understood. Grimes et al[7] found no evidence that conscious sedation, esophageal pathology, or age had any statistical significance as a significant predictor of recurrent ingestion. Repeat ingestors are more likely to ingest foreign objects and less likely to experience food impaction[7]. Impulsivity, secondary gain, or an undiagnosed psychiatric disorder are possible explanations for ingestions in the prison population[7].
Several case series and observational studies of IIFO in adults have been published[1-4,7,8,13-20]. Many of these studies included prisoners, but some included a mix of general psychiatric patients as well. Table 2 summarizes the world published literature on adult IIFO. While children commonly ingest toys, coins, and loose household items, inmates and psychiatric patients are much more likely to ingest sharp and relatively dangerous objects such as blades, improvised shanks, and metal hardware and instruments. Table 3 reviews the types of objects frequently ingested in the published literature.
Ref.
Year
Patients (n)
Not undergoing intervention
With psych dx
Surgery
Endoscopy
Objects ingested (n)
O'Sullivan et al[1]
1996
36 (20 prisoners)
31 (86)
6 (16)
2 (6)
4 (11)
308
1Dalal et al[2]
2013
30 (141 episodes)
33 (23)
27 (19)
11 (7)
97 (68)
649
1Weiland et al[3]
2002
22 (256 episodes)
23 (9)
10 (4)
64 (25)
256
Barros et al[4]
1991
167 (39 prisoners)
14 (8)
6 (3)
51 (30)
117 (70)
167
Selivanov et al[8]
1984
100
42 (42)
4 (6)
12 (12)
42 (42)
101
Blaho et al[13]
1998
8
8 (100)
6 (75)
14
Velitchkov et al[14]
1996
542 (379 prisoners)
410 (75)
124 (23)
26 (5)
19 (3)
1203
Karp et al[15]
1991
19
18 (95)
1Lee et al[17]
2007
33 (52 episodes)
0
6 (12)
46 (88)
104
Bisharat et al[18]
2008
11
7 (63)
3 (27)
2 (18)
Huang et al[19]
2010
33
4 (12)
27 (81)
2 (6)
299
305
Ribas et al[20]
2014
82
142
62 (75)
5 (6)
15 (18)
162
Grimes et al[7]
2013
159 (23 prisoners)
34 (21)
5 (3)
231
254
Total
2613
1014 (39)
317 (12)
190 (7)
1129 (43)
3153
| | |
| --- | --- |
| O'Sullivan et al[1] | Batteries, sharp metal objects (nails, razor blades, pins) |
| Dalal et al[2] | Pens, razor blades, spoons, sporks1, toothbrush, screws, bolts |
| Weiland et al[3] | Metal bezoars |
| Barros et al[4] | Wires, needles, balloons (filled with narcotics) |
| Selivanov et al[8] | Coins, bones, food, razor blades, safety pins |
| Blaho et al[13] | Razor blades |
| Velitchkov et al[14] | Screws, pins, spoons |
| Huang et al[19] | Pens, batteries, knives |
| Karp et al[15] | Razors, glass, toothbrush |
| Lee et al[17] | Metal wires, pens, toothbrush, needles |
| Bisharat et al[18] | Razors, batteries |
| Ribas et al[20] | Razor blades, cylindrical batteries, mattress springs |
| Grimes et al[7] | Toothbrush, pencil |
HEALTHCARE COSTS
The costs of IIFO in the inmate population are high, especially when compared to the non-incarcerated population[21]. It has been estimated that the overall cumulative annual costs of IIFO in the majority (44 out of 50) United States states exceed $6 billion[6]. The majority of IIFO care costs can be broken down into nursing care (56%), endoscopy services (14%), emergency department care (10%), and surgical services (6%)[19]. Considering the above, IIFO episodes were associated with healthcare-related median charges between $4683 and $7698 for both emergency department evaluations and hospital admissions[5]. In the subset of patients who required hospital admission, median per-episode charges exceeded $14000[5]. Moreover, when repeated episodes of IIFO are factored in, estimated cumulative "lifetime" charges for patients studied in the same cohort were nearly $50000[5]. In addition there are the costs of security and transportation to the prison system because these patients have to be transported in a secure fashion, typically with multiple guards. While hospitalized, a guard must remain at the patient bedside. Hospitals also cover the cost of around-the-clock security for non-prisoner psychiatric patients. The estimated cost not reimbursed by third party payers for security was $278806 in Rhode Island over an eight year span[19].
DIAGNOSIS (VERIFICATION)
Actual ingestions
Most ingestions are either self-reported by the inmate or witnessed by security staff. Patients presenting typically receive a plain X-ray to localize the object. Patients with normal vital signs and normal physical exam typically do not require additional imaging, even in the setting of sharp or other seemingly more dangerous objects.
Plain abdominal X-ray demonstrating free air is considered diagnostic for perforation. However, free air under the diaphragm is rarely seen because perforations are most commonly caused by impactions that have slowly eroded through the intestinal wall. These erosions are covered by fibrin, omentum, or adjacent loops of bowel limiting the passage of free air into the peritoneal cavity[22].
Patients with abdominal pain, fever, gastrointestinal bleeding, or other symptoms typically require CT scanning to evaluate for the presence of bowel perforation or other pathology. It has been shown that prisoners sometimes choose objects that will be visible on radiographs, wrap them in plastic or other materials to reduce the risk of injury, and then feign gastrointestinal symptoms[20]. Most objects are located in the stomach at the time of initial presentation (Figure 1). After initial X-ray, no additional workup is typically performed for radiolucent objects unless mandated by abnormal physical exam findings or vital signs.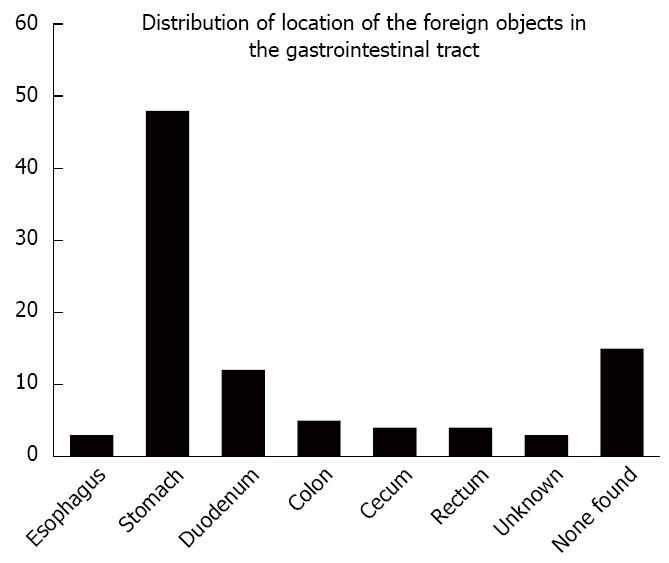 Fictitious ingestions
Claimed or fictitious ingestions have been reported[13]. Although speculative, there are three possible explanations for this observed pattern: (1) some form of secondary gain may be present when an ingestion is claimed; (2) an actual ingestion may have occurred but the object ingested is not readily detectable or has already passed through the gastrointestinal system; or (3) the patient may be contemplating ingestion, but has not yet committed to this self-destructive behavioral pattern. It is important to note that healthcare-related median charges associated with verified (i.e., proven) ingestions are higher ($5860) than charges associated with claimed (i.e., fictitious) ingestions ($3997)[5].
PREVENTION
Recently published data reinforce the critical importance of prevention in the setting of IIFO, especially when repeated episodes of ingestion are present[2,5]. It has been difficult to prevent psychologically ill patients from ingesting foreign bodies and psychiatric medication has proven ineffective. Prisoners typically receive mental health care in their institution and do not require admission to the hospital for psychiatric care. Many of these patients are not suicidal and their psychiatric illness is not acute in nature, so psychiatric hospital admission is typically of little value[19]. Prevention strategies suggested include decreasing access to objects in the environment, increasing psychotherapy, changing diet for those with a history of food impaction, and dilating the esophagus for those with stricture[7].
The impetus for prevention primarily stems from the association between escalating psychiatric illness and repeated ingestion episodes. The fact that patients with recurrent ingestion episodes tend to have more severe psychiatric illness (as evident by the increasing number of formal psychiatric diagnoses) supports the contention that early and aggressive psychiatric intervention may help curtail the escalation of this self-damaging behavioral pattern. Gitlin et al[24] present a fascinating discussion of the psychiatric aspects of IIFO and found that most IIFO cases in the general population are associated with malingering, psychosis, pica, or personality disorders[24]. Treatment should be tailored to the patient's specific psychiatric diagnosis[25]. Prisons may employ closely monitored units in combination with psychiatric care in an attempt to reduce this type of behavior.
Another impetus for aggressive prevention is that finding that the financial burden of IIFO also tends to escalate as this repetitive self-destructive behavior continues to recur[5]. As the complexity of care and frequency of surgical intervention increases in patients with a history of prior ingestions, so does the cost of care.
CONCLUSION
IIFO is a rare but complex and expensive disease in prisoners. Observation and endoscopy are common appropriate management strategies and surgery should be avoided when possible. For those patients who present with their first episode of IIFO, an intensive monitoring and prevention plan should be developed to reduce the risk of recurrent episodes. While more data on the types of prevention interventions and their effectiveness is needed, the pattern of escalation among the IIFO population certainly warrants organized, proactive approaches.
ACKNOWLEDGMENTS
Our research on this topic was approved by the Institutional Review Board of The Ohio State University.
P- Reviewer: Alsolaiman M, Chai J, Gurkan A, Kim GH, Mazeh H, Pauli EM, Seow-Choen F S- Editor: Ji FF L- Editor: A E- Editor: Zhang DN