Copyright
©2014 Baishideng Publishing Group Co.
World J Hepatol.
Feb 27, 2014;
6(2): 98-106
Published online Feb 27, 2014. doi: 10.4254/wjh.v6.i2.98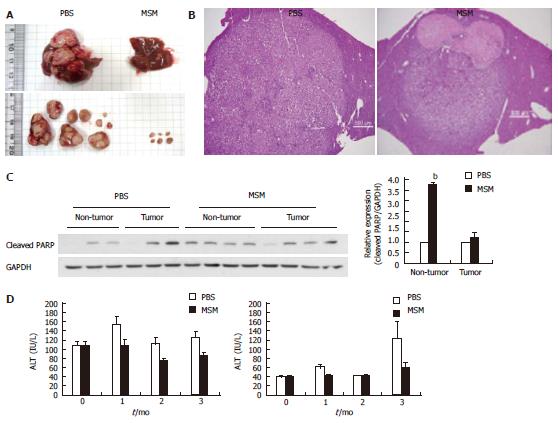 Figure 4 Methylsulfonylmethane inhibits hepatic tumorigenesis in H-ras12V transgenic mice. H-ras12V transgenic mice were administered with PBS and MSM (100 μg/g) every day for 3 mo. A: Liver morphologies of PBS (control) group (left) and MSM group (right) after administration for 3 mo; B: Hematoxylin and eosin stained section in livers of PBS and MSM treated H-ras12V transgenic mice (Scale bars, 500 μm); C: Expression levels of cleaved PARP in H-ras12V livers; D: The levels of AST and ALT in plasma of H-ras12V transgenic mice treated with MSM. MSM: Methylsulfonylmethane; AST: Aspartate aminotransferase; ALT: Alanine aminotransferase.
---
Citation: Kim JH, Shin HJ, Ha HL, Park YH, Kwon TH, Jung MR, Moon HB, Cho ES, Son HY, Yu DY. Methylsulfonylmethane suppresses hepatic tumor development through activation of apoptosis. World J Hepatol 2014; 6(2): 98-106
---