World J Gastroenterol.
Dec 15, 1999;
5(6): 492-505
Published online Dec 15, 1999. doi: 10.3748/wjg.v5.i6.492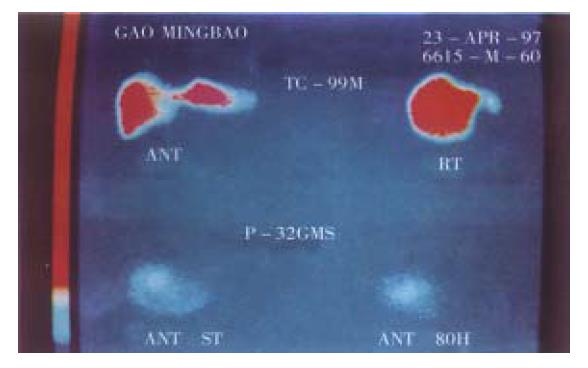 Figure 7 SPECT imaging before and after 32P-GMS internal irradiation in patients with relapsed HCC (interlobular) after operation. Upper picture demonstrates interlobular colloidal image (anterio-posterior and light lateral position). Lower picture shows 80 h after 32P-GMS treatment, most of 32P-GMS cumulated in the foci, no extrahepatic organ imaging was found.
---
Citation: Liu L, Jiang Z, Teng GJ, Song JZ, Zhang DS, Guo QM, Fang W, He SC, Guo JH. Clinical and experimental study on regional administration of phosphorus 32 glass microspheres in treating hepatic carcinoma. World J Gastroenterol 1999; 5(6): 492-505
---