World J Gastroenterol.
Feb 21, 2018;
24(7): 810-818
Published online Feb 21, 2018. doi: 10.3748/wjg.v24.i7.810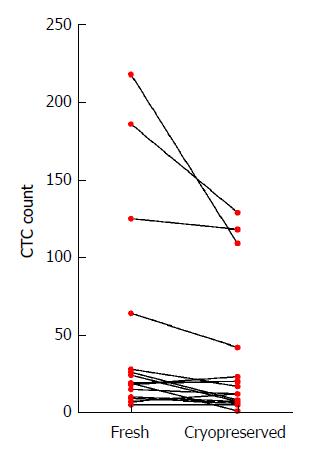 Figure 2 Circulating tumor cell enumeration by processing method. Mean number of CTCs isolated in the fresh specimens were higher than in the matched cryopreserved sample (mean difference in CTCs 17.1 95%CI: 0.7-33.6, P = 0.043). This difference was mostly driven by larger falls in CTC counts in samples with high numbers of CTCs (> 50 CTCs in fresh samples), with no significant difference in CTC counts for samples with less than 50 CTC in the fresh specimen (P = 0.06).
---
Citation: Brungs D, Lynch D, Luk AW, Minaei E, Ranson M, Aghmesheh M, Vine KL, Carolan M, Jaber M, de Souza P, Becker TM. Cryopreservation for delayed circulating tumor cell isolation is a valid strategy for prognostic association of circulating tumor cells in gastroesophageal cancer. World J Gastroenterol 2018; 24(7): 810-818
---