World J Gastroenterol.
Jan 14, 2018;
24(2): 195-210
Published online Jan 14, 2018. doi: 10.3748/wjg.v24.i2.195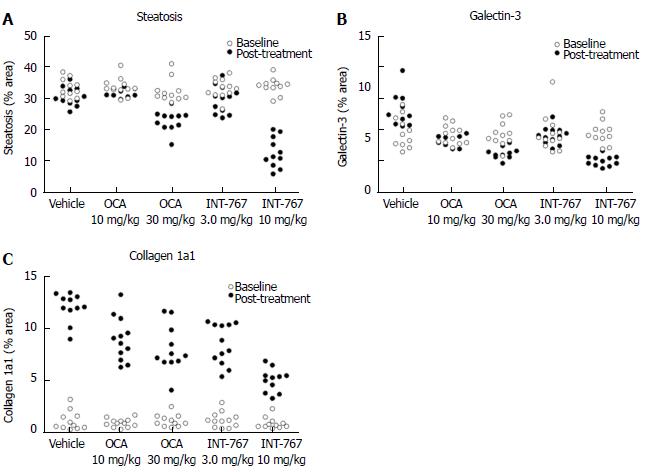 Figure 9 INT-767 or obeticholic acid treatment for 16 wks improves hepatic fat deposition, collagen 1a1 and galectin-3 levels in ob/ob-NASH mice with biopsy-confirmed liver pathology.
Data are indicated before (baseline) and after treatment intervention. A: Fractional area of fat (HE staining); B: Galectin-3; C: Collagen 1a1. Data are expressed as % of total parenchymal area (subtraction of fat area); NASH: Non-alcoholic steatohepatitis.
---
Citation: Roth JD, Feigh M, Veidal SS, Fensholdt LK, Rigbolt KT, Hansen HH, Chen LC, Petitjean M, Friley W, Vrang N, Jelsing J, Young M. INT-767 improves histopathological features in a diet-induced ob/ob mouse model of biopsy-confirmed non-alcoholic steatohepatitis. World J Gastroenterol 2018; 24(2): 195-210
---