World J Gastroenterol.
Jan 7, 2017;
23(1): 48-59
Published online Jan 7, 2017. doi: 10.3748/wjg.v23.i1.48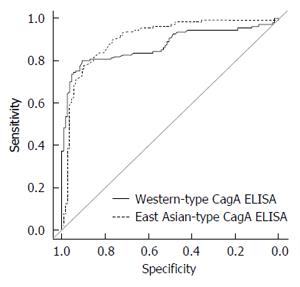 Figure 4 ROC curve analysis of Western-type and East Asian-type CagA ELISA.
The ROC curves of both types of CagA ELISA were analyzed using all 217 serum samples of the ROC analysis subjects group (Figure 2). The area under the curve (AUC) of the commercial Western-type CagA antibody ELISA was 0.87 and that of East Asian CagA antibody ELISA was 0.91. No significant difference was apparent.
---
Citation: Matsuo Y, Kido Y, Akada J, Shiota S, Binh TT, Trang TTH, Dung HDQ, Tung PH, Tri TD, Thuan NPM, Tam LQ, Nam BC, Khien VV, Yamaoka Y. Novel CagA ELISA exhibits enhanced sensitivity of Helicobacter pylori CagA antibody. World J Gastroenterol 2017; 23(1): 48-59
---