Copyright
©The Author(s) 2016.
Published by Baishideng Publishing Group Inc. All rights reserved.
Role of regulatory T cell in the pathogenesis of inflammatory bowel disease
Akiko Yamada, Rieko Arakaki, Masako Saito, Takaaki Tsunematsu, Yasusei Kudo, Naozumi Ishimaru, Department of Oral Molecular Pathology, Tokushima University Graduate School, Tokushima 770-8504, Japan
Author contributions: Yamada A, Arakaki R, Saito M, Tsunematsu T, Kudo Y and Ishimaru N analyzed the literature and wrote a paper.
Supported by Scientific Research No. 24659839 and No. 24689068 from the Ministry of Education, Science, Sport, and Culture of Japan.
Conflict-of-interest statement: The authors have no conflict of interest to report.
Open-Access: This article is an open-access article which was selected by an in-house editor and fully peer-reviewed by external reviewers. It is distributed in accordance with the Creative Commons Attribution Non Commercial (CC BY-NC 4.0) license, which permits others to distribute, remix, adapt, build upon this work non-commercially, and license their derivative works on different terms, provided the original work is properly cited and the use is non-commercial. See: http://creativecommons.org/licenses/by-nc/4.0/
Correspondence to: Naozumi Ishimaru, DDS, PhD, Professor, Department of Oral Molecular Pathology, Tokushima University Graduate School, 3-18-15 Kuramoto, Tokushima 770-8504, Japan. ishimaru.n@tokushima-u.ac.jp
Telephone: +81-88-6337464 Fax: +81-88-6337464
Received: April 28, 2015
Peer-review started: May 5, 2015
First decision: October 14, 2015
Revised: November 11, 2015
Accepted: December 8, 2015
Article in press: December 8, 2015
Published online: February 21, 2016

Regulatory T (Treg) cells play key roles in various immune responses. For example, Treg cells contribute to the complex pathogenesis of inflammatory bowel disease (IBD), which includes Crohn's disease and ulcerative colitis during onset or development of that disease. Many animal models of IBD have been used to investigate factors such as pathogenic cytokines, pathogenic bacteria, and T-cell functions, including those of Treg cells. In addition, analyses of patients with IBD facilitate our understanding of the precise mechanism of IBD. This review article focuses on the role of Treg cells and outlines the pathogenesis and therapeutic strategies of IBD based on previous reports.
Core tip: We review the types and functions of regulatory CD4+ T cells (Treg cells) and describe their roles in the pathologies of the inflammatory bowel diseases, i.e., Crohn's disease and ulcerative colitis. We have paid particular attention to the use of animal models and human studies to elucidate the mechanisms by which Treg cells influence these diseases and have provided an overview of the potential uses of these cells in therapeutic strategies.
---
Citation: Yamada A, Arakaki R, Saito M, Tsunematsu T, Kudo Y, Ishimaru N. Role of regulatory T cell in the pathogenesis of inflammatory bowel disease. World J Gastroenterol 2016; 22(7): 2195-2205
---
INTRODUCTION
Inflammatory bowel disease (IBD) is a term that encompasses two major forms of chronic inflammatory intestinal disorders: Crohn's disease (CD) and ulcerative colitis (UC)[1-3]. Both of these chronic inflammatory diseases feature a typical time of onset during young adulthood and a lifelong course characterized by periods of remission and relapse[4,5]. The pathogenesis of IBD is well known to be complex because of various immunological, environmental, host genetic, and bacterial factors, and the complicated regulatory mechanisms associated with mucosal immunity can also influence the onset or development of IBD[6-8]. Many reports of various animal models of IBD have revealed cellular or molecular mechanisms of IBD and the recent use of anticytokine agents, such as antitumor necrosis factor-α (TNF-α), interleukin (IL)-6R, or IL-13 antibodies, has achieved progress in healing mucosal damage associated with IBD[9,10].
Regulatory T (Treg) cells are known to plays a key role in the pathogenesis of IBD, as well as in other autoimmune disorders or allergies[11-14]. Considerable evidence supports the notion that an altered balance between Foxp3+CD4+ Treg cells and T effector cells in the intestinal microenvironment might contribute to the pathogenesis of IBD[12,15]. The ability to control inflammatory lesions with transferred Treg cells has been demonstrated in several IBD models[16,17]. On the other hand, patients with IBD have been found to harbor significantly reduced numbers of peripheral Treg cells or increased serum level of soluble IL-2Rα[18,19]. Therefore, it is possible that a novel therapy involving Treg cells might effectively treat IBD.
This review will focus on the functions of Treg cells in controlling peripheral immune tolerance within the context of mucosal immunity and will explain the molecular pathogenesis of IBD and possible therapeutic strategies involving Treg cells.
PATHOGENESIS OF IBD
The functions of mucosal immune system depend on the presence of intestinal flora[20]. In the intestinal epithelium, four cell types are found, including columnar cells, goblet cells, endocrine cells, and leukocytes to rest on a continuous basement lamina[21]. In addition, the immune cells in the lamina propria (LP), the leukocytes also involve various immune cells, such as the unique immune cell types that exist in gut- or mucosa-associated lymphoid tissues such as Peyer's patches, mesenteric lymph nodes, and isolated lymphoid follicles. Balanced mucosal immunity in the gut is important for both immune homeostasis and defense[22-24]. Intestinal immunity is maintained by the proportions of immune cells such as dendritic cells (DCs), macrophages, effector CD4+ or CD8+ T cells, and Treg cells.
Previously reported genome-wide association studies have identified more than 100 distinct loci that confer risk or protection from IBD development although a substantial proportion of these loci are common to both diseases[6]. Many IBD-associated pathways are known to exert heterogeneous effects upon activation in different cell types, and the combination of these cellular outcomes might affect disease manifestation[8,25]. IBD-associated loci can be broadly categorized into several critical pathways such as the innate immune response, intestinal barrier, microbial defense, reactive oxygen, and antimicrobial activity[26]. For example, in humans, nucleotide-binding oligomerization domain-containing protein 2 (NOD2), which is encoded by the NOD2 gene on chromosome 16 plays an important role in the intestinal immune system where it recognizes bacterial peptides and stimulates immune reactions[27]. Mutations in NOD2 gene have been associated with CD[27]. Furthermore, NOD2-/- mice are susceptible to and demonstrate excessive intestinal inflammation when compared with control mice[28]. Treatment with NOD2 ligands, including peptide or muramyl dipeptide has been shown to ameliorate 2,4,6-trinitrobenzenesulfonic acid (TNBS)- or dextran sulfate sodium (DSS)-driven colitis in normal mice[29,30]. Treatment with Lactobacillus peptidoglycan was shown to increase the number of CD103+DCs and Foxp3+ Treg cell in mesenteric lymph nodes and IL-10 expression in the colonic mucosa in a TNBS-driven model of colitis, suggesting that NOD2 activity in the intestinal mucosa potentiates a tolerogenic environment[30].
Homing or migration-associated receptors such as CD62L, C-C chemokine receptor (CCR)7, αEβ7 integrin, α4β7 integrin, CCR4, CCR5, and CCR9 also contribute to the pathogenesis of IBD[31-37]. The expression of these receptors on Treg cells plays a key role in the intestinal immunological homeostasis and defective expression of these receptors has been shown to induce IBD as a result of the deficient migration of Treg cells into the intestine. For example, a loss of CCR7 was found to block Treg cell function in an experimental model of colitis[32].
ANIMAL MODELS OF IBD AND Treg CELLS
Many animal models of IBD have been developed based on the various aspects in the pathogenesis or mechanisms of IBD[16,38]. Mice have been widely used to examine the contribution of bacteria and specific bacterial factors to the pathogenesis of IBD[9]. Studies conducted in germ-free, specific pathogen-free, and gnotobiotic mice have suggested that defined or specific microbial flora plays a fundamental role in the initiation and development of IBD[39-41]. Additional experimental colitis mouse models have been induced using chemical drugs such as DSS, TNBS, oxazolone, or acetic acid[9,42-46]. In addition, adoptive transfer models in which a T-cell deficient mouse strain is reconstituted with Treg cell-depleted naïve T cells from a congenic donor mouse have been widely used[16,38,47]. Additional genetic models, including gene knockout, transgenic, or mutant animals, have been utilized to understand the genetic and molecular pathogenesis of IBD[9,16,38]. As spontaneous models of IBD, several animal models mice and rats are known to understand the pathogenesis of IBD or investigate new therapeutic strategy for IBD[9,38].
Bacteria-infected models
Studies conducted in mouse models of IBD have indicated that the Treg cell compartment is particularly sensitive to microbiotal changes[48]. Treg cells from germ-free mice are generally less suppressive and express lower level of Foxp3 than do Treg cells from normal mice[49-51]. The colons of germ-free mice harbor reduced number of Treg cells, although this population was shown to increase in response to a decrease in bacterial load following vancomycin treatment[52,53]. Citrobactor rodentium-infected mouse models have been the preferred infection models in acute intestinal inflammation[54]. Helicobactor-infected mice have been also used to be a bacterial infection model in combination with the other model[47]. In addition, toll-like receptor 9 (TLR9)-deficient mice harbor increased numbers of Treg cells in the small intestine, suggesting that inflammatory signals from bacterial DNA play a role in inhibiting induced Treg cell differentiation or Treg cell proliferation[12,55].
Gene-manipulated models
IL-2-/-, IL-2R-/-, and IL-10-/- mice are known IBD models in which reduced Treg cell number or dysfunction of Treg cells are observed[41,19,56-60]. In addition, innate or mucosal immunity-related gene-deficient mice, such as NOD2-/-, myeloid differentiation primary response 88 (MYD88)-/-, nuclear factor-κB (NF-κB)-/-, cytokine-deficiency induced colitis susceptibility 1 (CDCS1)-/-, multidrug resistance gene 1a (MDR1a)-/-, and TLR5-/- mice, also reveal inflammatory lesions in the colon[27,61-70]. T-cell receptor (TCR)-/- mice are also known to be one of IBD models[60]. Overexpression of TNF-α and signal transducer and activator of transcription4 (STAT4) gene in mice results in the development of IBD-like lesions[16,71]. Moreover, there are various gene-manipulated models, in which epithelial barrier- and immune regulation-associated genes are manipulated by knockdown, knockin, conditional knockout, or transgenic mice (Table 1)[9,16,38,39,72-82]. Among them, a reduction of Treg cell number or impaired Treg cell function is observed in several models (Table 1)[19,59,60,68,72,77,78].
Group
Model
Association
Ref.
Chemical drug-induced model
DSS
TNF-α, IL-17, reduced Treg cells
[43]
TNBS
IL-12, IL-17, reduced Treg cells
[44]
Oxazolone
IL-4
[45]
Acetic acid (rat)
Myeloperoxidase
[46]
Adoptive transfer model
Naïve T cell→Rag-/-/SCID
Recovery by Treg cell transfer
[16]
Bacteria-infected model
C. rodentium
Acute infection, IL-17
[54]
Helicobacter, etc.
Combined with the other models
[47]
Spontaneous model
SAMP/Yit/Fc
Dysfunction of Treg cell
[83]
C3H/HeJBir
Increased susceptibility to bacteria
[84]
Cotton-top Tamarin (monkey)
C.Jejuni infection
[85]
LEC (rat)
Reduced Treg cells
[86]
Gene-manipulated model
IL-2-/-
Reduced Treg cells
[59]
IL-2R-/-
Reduced Treg cells
[19]
IL-10-/-
Reduced Treg cells
[60]
NOD2-/-
Impaired innate immunity
[61]
Myd88-/-
Impaired TLR signal
[65]
NF-κB-/-
Impaired pro-inflammatory signal
[62]
Cdcs1-/-
Impaired pro-inflammatory signal
[67]
Mdr1a-/-
Reduced iTreg cell differentiation
[68]
TCR-/-
Defective adaptive immunity
[60]
TGFβ-/-
Reduced Treg cell
[72]
JAK3-/-
Balance of Th1 and Th2
[73]
Muc2-/-
ER stress
[74]
A20-/-
Impaired Myd88 signal
[75]
TCR-/-SOCS1-/-
Increased IFN-γ and IL-4
[76]
CD4/TGFβ-/-
Impaired Treg cell function
[77]
CD4/PDK1-/-
Reduced Treg cell
[78]
CD4/Blimp1-/-
Increased IL-17
[79]
TNF∆ARETG
Increased CD8 function
[71]
STAT4TG
Increased TNF-α
[80]
T/CD40LTG
Thymic dysfunction
[81]
B/CD40LTG
Increased IFN-γ
[82]
Spontaneous models
As one of spontaneous IBD models based on the pathogenic factor by Treg cells, senescence-accelerated mouse protein (SAMP)1/YitFc (SAMP) mice are well known[83]. A functional abnormality in Treg cells in SAMP mice is observed[83]. C3H/HeJBir mice with high susceptibility to bacteria have been also used to be a model of IBD[84]. In addition, a monkey model, cotton-top tamarin, infected with Campylobactor Jejuni is known to be a spontaneous model of IBD[85]. Moreover, long-evans cinnamon (LEC) rat is a spontaneous IBD model based on Treg cell-associated pathogenicity[86]. The LEC rat was first described as a naturally occurring mutant with a defect in thymocyte development: specifically, T-cell differentiation is arrested at the transition from CD4+CD8+ double positive to CD4+CD8- single positive (SP), but not to CD4-CD8+ SP, thymocytes[87]. Accordingly, in LEC rats, peripheral CD4+ T cells did not function as Th cells in terms of antibody production against T cell-dependent antigens, as well as in IL-2 production[87]. In addition, significantly reduced numbers of thymic and peripheral Foxp3+Treg cell and a defect in the suppressive activity of Treg cells were observed in these rats[86]. Interestingly, the proportion of Treg cells in the LP is significantly decreased in LEC rats when compared with control rats[86]. These findings suggest that the dysfunction in the Treg cell-controlled regulatory system may play a crucial role in the development of IBD.
REGULATORY T CELL
Differentiation of Treg cells
Forkhead box P3 (Foxp3)-expressing Treg cells are a suppressive subset of CD4+ T cells that control autoimmunity, allergy, infection, and tumors[11,88]. Natural Treg (nTreg) cells arise as a discrete and largely stable lineage in the thymus[89,90]. The nTreg subset exhibits a TCR repertoire that is distinct from those of Foxp3-conventional T cells and induced (iTreg) cells[91-94].
nTreg cells require IL-2 for the development and maintenance and were initially identified by their elevated expression of the high-affinity IL-2 receptor (CD25)[11]. Mice that lack the ability to conduct IL-2-mediated signaling following the injection of anti-IL-2 mAb or as a result of IL-2 or IL-2R gene knockout exhibit defects in the number and function of nTreg cells[95-98]. The most important finding in mice with deficient IL-2 signaling is the development of spontaneous autoimmune lesions, including IBD[96-98].
nTreg cells share phenotypic features with naïve and memory conventional T cells[89]. Most Treg cells in circulation and the lymphoid organs express CCR7 and the adhesion receptor CD62L, which direct their recirculation through lymphoid tissues; effector or activated Treg cells comprise a minor fraction of these[88,99]. Similar to activated conventional T cells, this Treg cell population exhibits phenotypes such as CD62LloCCR7loCD44hi killer cell lectin-like receptor subfamily G member 1 (KLRG1)+CD103+ or CD45RAloCD25hi is thought to have encountered antigens[33,100-102]. These cells exhibit enhanced migration through nonlymphoid tissues.
Tissue-resident Treg cells can be found in nonlymphoid tissues, even under noninflammatory conditions[89,103]. Various tissues such as the skin, lungs, liver, salivary gland, lacrimal gland, intestinal mucosa, adipose tissue, and placenta are known to harbor substantial numbers of Treg cells in both humans and mice[14,104]. For example, CCR7+Foxp3+ Treg cells were found to reside in the salivary glands of healthy humans and mice whereas the number of CCR7+Foxp3+ Treg cells was extremely decreased in the tissues from patients and model mice with Sjögren's syndrome, an autoimmune disease that affects the exocrine glands such as the salivary and lacrimal glands[104,105].
Peripheral Treg cells
iTreg cells are generated from peripheral naïve conventional CD4+ T cells during the course of an immune response[12]. In healthy mice, most peripheral Treg cells in the spleen and lymph nodes are thymus-derived nTreg cells. By contrast, the iTreg population resides in the intestinal LP and gut-associated lymphoid tissue (GALT)[48,106]. iTreg cell generation involves naïve T-cell activation in the presence of transforming growth factor-β (TGF-β): in this setting, antigen exposure induces iTreg cell differentiation[107]. iTreg cells are particularly prevalent at mucosal surfaces where tolerance is induced against various antigens within the colonizing microbiota[52,108]. In addition, ingested food contains a plethora of antigens: in particular, food antigen feeding experiments identified a TGF-β1-producing CD4+ T cell population in the LP and GALT[109]. Immune responses to these dietary molecules can be actively suppressed by inducing oral tolerance[110]. Experiments with germ-free mice have suggested that bacterial commensals are essential for the development of normal numbers of colonic Treg cells[109]. In the human microbiota, 17 clostridial strains that induce Treg cell gut-homing and expansion by producing large amounts of short-chain fatty acids (SCFAs), which are bacterial breakdown products of plant-derived fibers were identified[111,112]. In particular, the SCFAs propionate, butyrate, and acetate can restore clonal Treg cell numbers in germ-free or antibiotic-treated mice[112].
Although the gastrointestinal tract harbors the largest reservoir of tissue-resident Treg cells in the body, recent studies have demonstrated that Treg cells are also highly enriched in the visceral adipose tissue (VAT)[113]. Interestingly, more than 50% Treg cells of CD4+ T cells in the VAT of 20-week-old mice are found[113]. Differences in the expressions of IL-10, CCR1, CCR2, CCR4, GATA binding protein 3 (GATA3), and peroxisome proliferator-activated receptor γ (PPARγ) have been observed between VAT Treg cells and effector Treg cells in lymphoid tissues[113,114]. Moreover, mice with a Treg cell-specific PPARγ deletion that were fed a high-fat diet exhibited impaired restoration of insulin sensitivity and glucose tolerance following pioglitazone treatment[113,114]. These findings suggest that VAT Treg cells might be critical mediators of the effects of treatment for lipid metabolism disorders.
REGULATOY T CELL IN IBD
Phenotypes of Treg cells in IBD
The phenotype and function of Treg cells in the inflamed mucosa or periphery of patients with IBD or animal models have been described as considerably different from those in peripheral lymphoid organs of healthy controls[12,115] (Figure 1). For example, patients with IBD exhibit reduced numbers of peripheral Treg cells and increased numbers peripheral Th17 cells[116]. By contrast, the mRNA expression levels of Foxp3 are elevated in the mucosa of patients with IBD along with elevated levels of IL-17A, IL-1β, and IL-6 mRNA[116]. In IBD models, dysfunctional suppressive Treg cell function plays a crucial role in the development of IBD lesions via the upregulation of T-cell specific T-box transcription factor (T-bet), STAT-1, and nuclear factor-κB (NF-κB)-mediated peripheral Treg cell activation[86]. Intestinal immune system activation in response to bacterial antigens and pathologic cytokine production by intestinal T cells is induced through various transcription factors or signal molecules, including T-bet, GATA-3, and STATs and plays a critical role in the development of IBD[72,117-119]. CD is associated with the production of Th1 cytokines such as IFN-γ and TNF-α and in an IBD model naïve T cells transferred into T cell-deficient mice can be controlled by a coinjection of Treg cells which suppress Th1 effector cell functions such as IFN-γ production[120,121]. Moreover, UC development in humans is associated with Th2 cytokines such as IL-5[122].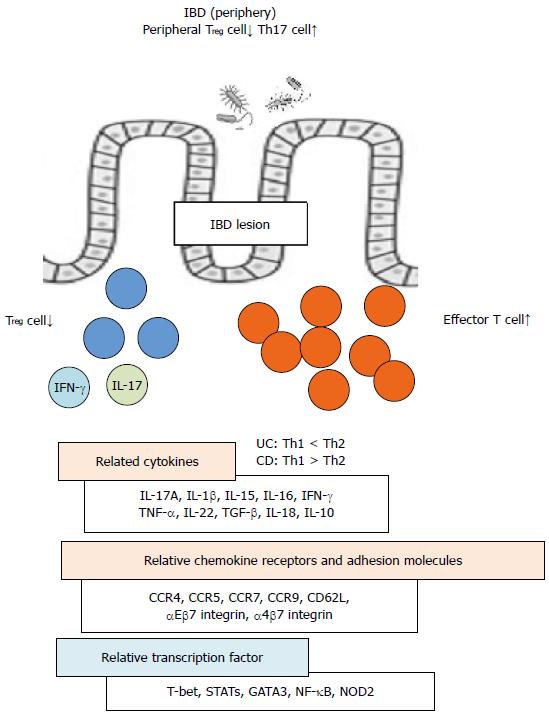 Figure 1 Molecular contribution to the pathogenesis of inflammatory bowel disease. In the lesions of inflammatory bowel disease (IBD), a various immune cells and epithelial cells contribute to the onset or development of the disease. Imbalance between cytokines or abnormal expression of chemokine receptors and adhesion molecules through several transcription factors in immune cells including effector T cell influences the pathogenesis of IBD. Decreased number of Treg cells and abnormal differentiation of Treg cells into effector-like phenotype are observed in the IBD lesions.
Recent studies have demonstrated that Foxp3+ Treg cells express retinoic acid receptor-related orphan receptor gamma t and are thus able to differentiate into Th17 cells, a process that is associated with a decreased suppressive Treg cell function in patients with IBD. Treg cells were found to suppress colonic inflammation by downregulating Th17 responsiveness via TGF-β in an adoptive transfer mouse model of colitis[123,124]. Additionally, CCR7 was shown to regulate the intestinal Th1/Th17/Treg cell balance during CD-like murine ileitis[125]. Furthermore, IFN-γ+IL-17+ coproducing CD4+ T cells which express high levels of T-bet, CD26, and IL-22 resemble the pathogenic Th17 cells that contribute to intestinal inflammation in IBD[126]. Epithelial-derived IL-18 also regulates both colonic Th17 cell differentiation and Treg cell function in the context of IBD-associated intestinal inflammation[124].
A recent study described Clostridium bacteria as potent inducers of Foxp3+ Treg cells in the colonic mucosa[111]. Additionally, CD4+CD8+αα colonic Treg cells were reported to produce IL-10 in response to Faecalibacterium prausnitzii and the frequencies of CD4+CD8+αα lymphocytes in the LP lymphocytes and peripheral blood were found to be significantly lower in patients with IBD than in healthy controls[127]. These findings suggest that colonic bacteria-induced CD4+CD8+αα Treg cells may control or prevent IBD.
Therapeutic Treg cell-based strategies for IBD
New and effective therapies involving anti-TNF antibodies have yielded remarkable progress in the field of IBD therapy[10]. In addition, clinical trial applications are underway for target molecules such as IL-6/IL-6R, IL-12/23, IL-17A/F, IL-13, interferon-gamma-inducible protein 10 (IP10), CCR9, Janus kinase 3 (JAK3), similar to mothers against decapentaplegic (Smad)7/TGF, α4β7/β7, and mucosal vascular addressin cell adhesion molecule (MAdCAM)[4,5]. Target molecules such as IL-17A/F, IL-13, IP10, JAK3, α4β7/β7, or MAdCAM also represent promising therapeutic strategies for UC[4,5,15,22,24].
The Foxp3+Treg cell frequency was found to be significantly lower in active patients with IBD than in healthy controls[18,116]. On day 14 after an initial dose of anti-TNFα infusion therapy, patients with IBD exhibited a significant increase in the frequency of circulating Treg cells along with two- to three-fold increase in Foxp3 expression, which paralleled a reduction of IBD[128]. Furthermore, another report demonstrated that anti-TNFα mAb [infliximab (IFX)] therapy yielded a significant and sustained relative increase in peripheral blood Treg cells; a change in C-reactive protein levels and durable clinical response was associated with this sustained increase in circulating Foxp3+Treg cells[129]. IFX therapy was also shown to downregulate the mucosal expression of Foxp3 mRNA and protein in patients with UC and CD[129].
In patients with active IBD, anti-TNF-α treatment rapidly enhances the frequency of functional Foxp3+Treg cells in the blood and potentiates their suppressive function[128]. In addition, in these patients increased apoptosis of local Foxp3+Treg cells is observed in the inflamed mucosa when compared with noninflamed control colon tissues, along with a reduced frequency and increased apoptosis of peripheral blood Treg cells and elevated caspase activity in the serum[130]. During anti-TNF-α antibody treatment, a decrease in the apoptosis of Treg cells was found to correlate closely with an increase in peripheral Treg cell numbers and a decrease of caspase and disease activity[130].
CD4+CD25+CD127loCD45RA+ Treg cells appear to be a promising population from which to expand Treg cells for autologous Treg cell transfer therapy in patients with CD[131]. Expanded CD45RA+ Treg cells carry an epigenetically stable FOXP3 locus and do not convert to a Th17 phenotype in in vitro culture and CD45RA+ Treg cells from patients with CD were found to home to the human small intestine in a C.B-17 severe combined immune deficiency xenotransplant model[131]. There remains an unmet need for the development of novel therapies for IBD, as current drug therapies frequently fail to maintain long-term remission and may be complicated by significant side effects. Although cellular therapies are emerging as a potentially attractive many hindrances to successful clinical therapy remain in terms of sufficient cell numbers, cell maintenance, and cell sources.
CONCLUSION
Although the precise molecular pathogenesis of IBD remains unclear, recent therapeutic strategies involving antibodies against pathogenic cytokines or chemokines have provided treatment opportunities for many more patients suffering from IBD. Additionally, Treg cells may provide a more effective therapy for IBD; therefore the unknown mechanisms with respect to Treg cell differentiation, function, and maintenance should be clarified.
P- Reviewer: Lakatos PL, Schicho R, Wlodarczyk M S- Editor: Qi Y L- Editor: A E- Editor: Liu XM