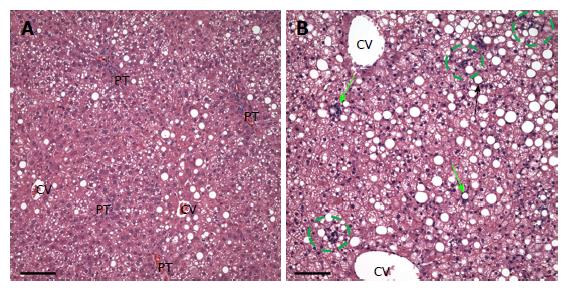 Figure 3 Hematoxylin-eosin staining of liver sections from rats fed ethanol (A) or ethanol + 0.
36% guanidinoacetate (B) for 6-wk
. There is a diffuse inflammatory infiltrate in the liver from the rat fed ethanol plus guanidinoacetate. Green arrows indicate lipogranulomas, green circle indicates an inflammatory cell foci, Scale bar = 100 microns. PT: Portal triad, CV: Central vein.
---
Citation: Osna NA, Feng D, Ganesan M, Maillacheruvu PF, Orlicky DJ, French SW, Tuma DJ, Kharbanda KK. Prolonged feeding with guanidinoacetate, a methyl group consumer, exacerbates ethanol-induced liver injury. World J Gastroenterol 2016; 22(38): 8497-8508
---