Copyright
©The Author(s) 2016.
Published by Baishideng Publishing Group Inc. All rights reserved.
Multiplex qPCR for serodetection and serotyping of hepatitis viruses: A brief review
Mohammad Irshad, Priyanka Gupta, Dhananjay Singh Mankotia, Mohammad Ahmad Ansari, Clinical Biochemistry Division, Department of Laboratory Medicine, All India Institute of Medical Sciences, New Delhi 110029, India
Author contributions: Gupta P collected the information from published literature; Mankotia DS and Ansari MA categorized it under different sub-headings and prepared the manuscript; Irshad M edited the manuscript and corrected/modified the language.
Conflict-of-interest statement: There is no conflict of interest among the authors of this study.
Open-Access: This article is an open-access article which was selected by an in-house editor and fully peer-reviewed by external reviewers. It is distributed in accordance with the Creative Commons Attribution Non Commercial (CC BY-NC 4.0) license, which permits others to distribute, remix, adapt, build upon this work non-commercially, and license their derivative works on different terms, provided the original work is properly cited and the use is non-commercial. See: http://creativecommons.org/licenses/by-nc/4.0/
Correspondence to: Dr. Mohammad Irshad, Professor, Clinical Biochemistry Division, Department of Laboratory Medicine, All India Institute of Medical Sciences, Ansari Nagar, New Delhi 110029, India. drirshad54@yahoo.com
Telephone: +91-11-26594981 Fax: +91-11-26588663
Received: February 9, 2016
Peer-review started: February 9, 2016
First decision: March 7, 2016
Revised: March 9, 2016
Accepted: March 30, 2016
Article in press: March 30, 2016
Published online: May 28, 2016

The present review describes the current status of multiplex quantitative real time polymerase chain reaction (qPCR) assays developed and used globally for detection and subtyping of hepatitis viruses in body fluids. Several studies have reported the use of multiplex qPCR for the detection of hepatitis viruses, including hepatitis A virus (HAV), hepatitis B virus (HBV), hepatitis C virus (HCV), hepatitis D virus (HDV), and hepatitis E virus (HEV). In addition, multiplex qPCR has also been developed for genotyping HBV, HCV, and HEV subtypes. Although a single step multiplex qPCR assay for all six hepatitis viruses, i.e., A to G viruses, is not yet reported, it may be available in the near future as the technologies continue to advance. All studies use a conserved region of the viral genome as the basis of amplification and hydrolysis probes as the preferred chemistries for improved detection. Based on a standard plot prepared using varying concentrations of template and the observed threshold cycle value, it is possible to determine the linear dynamic range and to calculate an exact copy number of virus in the specimen. Advantages of multiplex qPCR assay over singleplex or other molecular techniques in samples from patients with co-infection include fast results, low cost, and a single step investigation process.
Core tip: The present review describes the worldwide application and the significance of multiplex quantitative real time polymerase chain reaction (qPCR) for simultaneous detection of hepatitis viruses and their subtypes in serum. The published literature has demonstrated that the multiplex qPCR assay is a fast, easy, cost-effective, and sensitive technique for the early diagnosis of hepatitis co-infections. Use of this technique, in comparison to other diagnostic procedures, is increasing in diagnostic laboratories.
---
Citation: Irshad M, Gupta P, Mankotia DS, Ansari MA. Multiplex qPCR for serodetection and serotyping of hepatitis viruses: A brief review. World J Gastroenterol 2016; 22(20): 4824-4834
---
INTRODUCTION
Viral hepatitis is a serious public health problem requiring early diagnosis and timely treatment. There are a number of hepatitis viruses that have already been characterized based on their molecular structure and named alphabetically as hepatitis viruses A, B, C, D, E, and G (HAV, HBV, HCV, HDV, HEV, and HGV), respectively. These are hepatotropic and non-cytopathic in nature and cause liver damage by immune mediated cell lysis[1]. There is an additional group of viruses that cause hepatitis but are not yet characterized. These viruses have been put under the category of non A-G hepatitis viruses. HAV infects mainly the pediatric age group, occurs both sporadically as well as in epidemics, and accounts for an estimated 1.4 million cases annually[2]. Two billion people are suspected to be infected with HBV globally, and approximately 350 million of them suffer from chronic hepatitis B infection[3]. About 25% of adults infected with HBV during childhood are reported to die from hepatocellular carcinoma (HCC) or liver cirrhosis[4]. In addition, 3-4 million people are infected with HCV each year, and a high proportion of them develop chronic HCV infection. A large population infected with HCV dies from serious liver diseases annually[5]. Similarly, reports are also available on HEV infection. In addition to individual viral infection, there are cases of co-infections reported from various parts of the world. Hepatitis A and E infections usually run a benign course of disease and resolve in due course of time without developing chronic diseases. In contrast, hepatitis B and C infections cause severe liver diseases, developing chronicity in a significant number of patients. Interestingly, hepatitis A and E infections in patients with pre-existing HBV or HCV infections lead to the development of serious diseases with a significant rise in morbidity and mortality[6].
The diagnosis of hepatitis viral infections is usually done with serological markers in blood. However, there are situations where serology loses its credibility. For example, serological markers can not differentiate between past and present infections. In addition, serological tests do not address the problem of antigenic variations in viruses, infections with different genotypes, presence of silent carriers, and absence of antibody in early phase of infection[7]. Moreover, the presence of maternal antibodies makes it impossible to detect infections in newborns[8]. In order to have an alternate system, the nucleic acid tests (NAT) based methods were developed for detecting the viral genome in serum for the diagnosis of viral hepatitis. NAT based methods have the benefit of direct examination of the infectious agent's genome in serum[9,10].
The conventional polymerase chain reaction (PCR) is one such NAT based method that has been in practice in some laboratories for the diagnosis of viral hepatitis in the last few years[11]. However, conventional PCR is a lengthy procedure with several technical and operational problems, and so, it is of limited use. In addition, each marker needs to be investigated separately by PCR, and it takes a very long time to reach a final diagnosis. Because of these limitations of conventional PCR, the use of real time PCR was supposed to be a better option for early diagnosis of viral hepatitis in both sporadic and epidemic cases. Real time PCR is one of the latest techniques frequently used for the diagnosis of various infectious diseases, including viral hepatitis. It can detect causative pathogen-related nucleic acid in body fluids in a very short time period. It can also be used to determine different molecular forms and variant molecular species of pathogens, including bacteria, viruses, and several parasites[12,13]. Real time PCR is a specific and sensitive technique and uses specific probes and primers to detect target sequences in the genome. Moreover, this technique is performed on an automated machine without the need of post PCR procedures, thus minimizing cross contamination between samples, simultaneously accelerating the analysis[14].
The recent development of molecular technologies has relayed a strong message to medical researchers to explore ways to further improve the diagnostic procedures. Those researchers working in the area of medical virology have switched from traditional approaches of virus detection in clinical samples to multiplexing for simultaneous detection of multiple pathogens in a single assay[15]. Recently, several PCR based assays coupled with oligonucleotide microarray technology have been designed to allow for the simultaneous detection and genotyping of several viruses, including blood borne pathogens[16], respiratory viruses[17], and adenoviruses[18]. These assays show a significant increase in the sensitivity of detection, reaching 10-100 copies of target RNA/DNA in a sample[19]. Given the ease of performance, short reaction time, low cost, and the ability to monitor the results on a screen, these assays have proved attractive to all diagnostic laboratories furnished with minimal essential facilities. After surveying the literature on the use of PCR based multiplex assays for detecting and genotyping hepatitis viruses, we noticed several attempts to develop multiplex real time PCR assays for hepatitis in the last few years. Here, we provide an up to date review on the development, use, and significance of multiplex qPCR in the field of viral hepatitis.
EXPERIMENTAL APPROACH FOR MULTIPLEX qPCR
ASSESSMENT OF SENSITIVITY AND SPECIFICITY
Generation of standard curve
In order to generate a standard curve for each hepatitis virus, the standard control that includes the conserved region targeted for amplification/ detection is synthesized artificially and cloned into a suitable vector (e.g., pUC 57)[15] using cloning kits. These standards are used as a template for standardization of amplifications. The copy number of standard plasmids is calculated using their concentration and the size of linearized plasmids. Each standard template is added to PCR mix (Tris-HCl, KCl, MgCl2, four dNTPs, primers, and Taq DNA polymerase in a suitable concentration ratio), and PCR is performed under standardized conditions. For generation of the standard curve, a 10-fold serial dilution of each standard plasmid (101-108 copies/μL) is prepared and run in triplicate. At the end, data are analyzed by an automatic system that generates a standard curve[21]. The standard curves are used to quantify the amplification product and to assess the linear dynamic range using 10-fold dilution series of standard plasmid of each individual virus. One specimen standard plot is shown in Figure 1, which was prepared during development of quadruplex qPCR for hepatitis virus A, B, C, and E. Such plots are used to calculate copy number of individual template using correlation coefficient and Y-intercept value based on regression analysis.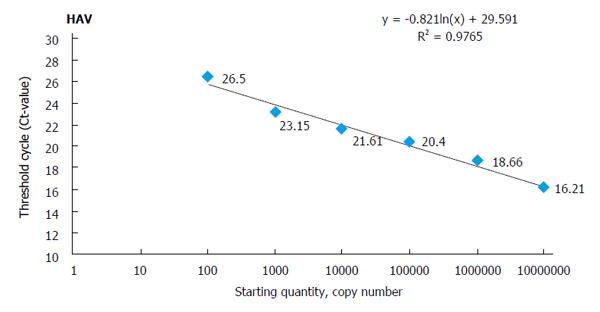 Figure 1 Standard curve showing amplification of hepatitis A virus[15].
HAV: Hepatitis A virus.
Standard curve showing amplification plots of 10-fold serial dilution of HAV template using standard cloned plasmids. Such standard curves are generated from the amplification plots run in triplicate and show a linear dynamic range. The correlation coefficient and the slope of each standard plot are shown in the figure.
Assessment of sensitivity
Using the standard curve prepared above, now it is possible to assess the sensitivity and determine the linear dynamic range of an individual virus. Moreover, observed Ct values may be used to calculate the exact copy number of virus in an unknown specimen[96,97]. Based on the data collected from various studies, including our study[15], it has been noticed that the linear dynamic range of each individual hepatitis virus usually falls in the range 101-108 copies/μL.
Assessment of specificity
The specificity of qPCR assay is assessed by evaluating sera from healthy controls and patients with unrelated diseases negative for hepatitis markers by serology and all other NAT based techniques. Negative results from these sera and clear positive signals from serologically positive hepatitis sera demonstrate the high level of specificity of qPCR. To date, all studies on qPCR demonstrate the assay to be specific[15,22]. In reports on viral hepatitis, qPCR assays demonstrated high specificity with a very low chance of false positive results[19,71].
MULTIPLEX qPCR IN RELATION TO OTHER ASSAYS
The multiplex qPCR assays were developed and used both for comparison as well as in combination with other molecular technologies to improve the sensitivity for detection of the viral genome[16,98]. Various other assay systems were also developed for simultaneous detection of HBV, HCV, and human immunodeficiency virus in addition to multiplex qPCR. The status of multiplex qPCR assay was assessed in comparison to other molecular techniques used for detection and genotyping of viruses, including hepatitis viruses. The other assay systems included flowcytometric microsphere based hybridization assay[99], transcription-mediated amplification (TMA)[100], and nucleic acid sequence based amplification (NASBA)[101]. Comparatively, TMA was reported to be an equally sensitive technique. However, when comparing qPCR with NASBA and TMA for the detection of hepatitis viruses, the level of sensitivity of TMA was found to be associated closely with qPCR[100]. Of course, qPCR assay was reported to be faster, more economic, and easier to perform compared to all other assays evaluated.
FUTURE AND LIMITATIONS OF MULTIPLEX qPCR
Multiplex qPCR assays are proving to be very good analytical and diagnostic procedures in medicine. Recently, these assays have been successfully used for both basic research and clinical applications[42,102]. Although the practice of doing separate assays for separate pathogens, including hepatitis viral markers, are still in place, the use of the multiplex assay is seen to be beneficial in terms of time and overall cost involved. Moreover, multiplex assays, when used for quantification of HCV- RNA, were found to resolve many problems with real time monitoring of the amplification process. In fact, in multiplex qPCR assays, real time PCR makes quantification of DNA and RNA of different organism more precisely and with better reproducibility because it depends on the threshold cycle value determined during the exponential phase of PCR rather than on end points[103]. In addition, these assays report a direct relationship between starting template copy number and the number of cycles required to get a positive signal. In this manner, real time qPCR appears to be a good option for laboratory diagnosis of viral hepatitis, both for screening as well as for the final diagnosis of suspected cases of viral hepatitis infections.
CONCLUSION
Based on the information compiled in the present review, there is an increasing trend/interest in the diagnostic area towards the development and use of multiplex qPCR assay for the simultaneous detection of hepatitis viruses or their subtypes in sera samples. Several studies have been conducted in last few years that clearly demonstrate the preferable use of qPCR over other techniques in the area of viral hepatitis. This technique has been used to detect hepatitis viruses in combination with various other viral and non-viral pathogens and reported to be a sensitive, fast, and cost-effective technique compared to other multi-step assay procedures. The use of multiplex qPCR in genotyping of hepatitis viral subtypes also provides great help in serotype detection. To date, multiplex qPCR has been successfully employed for the simultaneous detection of hepatitis virus A, B, C, D, and E and genotyping of their strains. It appears to be a good tool for screening blood donor samples in blood banks for hepatitis viruses. Moreover, a single step multiplex qPCR assay allows for an early diagnosis and timely treatment of patients with viral hepatitis. Several studies in this field are in progress, with more important information likely to be available until the next such update is necessary.
ACKNOWLEDGMENTS
We appreciate the infrastructure provided by All India Institute of Medical Sciences, New Delhi, India, for conduct of this study.
P- Reviewer: da Silva NM, Pokorska-Spiewak M S- Editor: Qi Y L- Editor: Filipodia E- Editor: Ma S