Copyright
©The Author(s) 2015.
Published by Baishideng Publishing Group Inc. All rights reserved.
Rectal cancer: An evidence-based update for primary care providers
Wolfgang B Gaertner, Mary R Kwaan, Robert D Madoff, Genevieve B Melton, Division of Colon and Rectal Surgery, Department of Surgery, University of Minnesota, Minneapolis, MN 55455, United States
Author contributions: All authors equally contributed to the manuscript conception and design, acquisition of data, analysis and interpretation of data, and drafting and revision of the manuscript.
Conflict-of-interest statement: The authors have no financial disclosures to report.
Open-Access: This article is an open-access article which was selected by an in-house editor and fully peer-reviewed by external reviewers. It is distributed in accordance with the Creative Commons Attribution Non Commercial (CC BY-NC 4.0) license, which permits others to distribute, remix, adapt, build upon this work non-commercially, and license their derivative works on different terms, provided the original work is properly cited and the use is non-commercial. See: http://creativecommons.org/licenses/by-nc/4.0/
Correspondence to: Wolfgang B Gaertner, MSc, MD, Division of Colon and Rectal Surgery, Department of Surgery, University of Minnesota, 420 Delaware Street SE, Mayo Mail Code 450, Minneapolis, MN 55455, United States. gaert015@umn.edu
Telephone: +1-612-6257992 Fax: +1-612-6254406
Received: January 14, 2015
Peer-review started: January 14, 2015
First decision: March 10, 2015
Revised: April 4, 2015
Accepted: May 21, 2015
Article in press: May 21, 2015
Published online: July 7, 2015

Rectal adenocarcinoma is an important cause of cancer-related deaths worldwide, and key anatomic differences between the rectum and the colon have significant implications for management of rectal cancer. Many advances have been made in the diagnosis and management of rectal cancer. These include clinical staging with imaging studies such as endorectal ultrasound and pelvic magnetic resonance imaging, operative approaches such as transanal endoscopic microsurgery and laparoscopic and robotic assisted proctectomy, as well as refined neoadjuvant and adjuvant therapies. For stage II and III rectal cancers, combined chemoradiotherapy offers the lowest rates of local and distant relapse, and is delivered neoadjuvantly to improve tolerability and optimize surgical outcomes, particularly when sphincter-sparing surgery is an endpoint. The goal in rectal cancer treatment is to optimize disease-free and overall survival while minimizing the risk of local recurrence and toxicity from both radiation and systemic therapy. Optimal patient outcomes depend on multidisciplinary involvement for tailored therapy. The successful management of rectal cancer requires a multidisciplinary approach, with the involvement of enterostomal nurses, gastroenterologists, medical and radiation oncologists, radiologists, pathologists and surgeons. The identification of patients who are candidates for combined modality treatment is particularly useful to optimize outcomes. This article provides an overview of the diagnosis, staging and multimodal therapy of patients with rectal cancer for primary care providers.
Core tip: Colorectal cancer is the third most common malignant neoplasm and second most common cause of cancer-death in the United States. It is essential for primary care providers to become familiar with the modifications and updates in the diagnosis and treatment of this common malignancy. This review focuses on the advances made in the multidisciplinary approach to rectal cancer as well as minimally invasive surgical options as part of the management of rectal tumors.
---
Citation: Gaertner WB, Kwaan MR, Madoff RD, Melton GB. Rectal cancer: An evidence-based update for primary care providers. World J Gastroenterol 2015; 21(25): 7659-7671
---
INTRODUCTION
Colorectal cancer is the third most common noncutaneous malignancy in the United States and the second most frequent cause of cancer-related deaths. In 2015, an estimated 132700 cases of colorectal cancer will be diagnosed in the United States and will account for 49700 deaths[1]. Of these cancers, 30 percent will arise in the rectum. The diagnosis, staging and treatment regimens for rectal cancer differ significantly from those for colon cancer and have undergone recent advances that are important for primary care providers, gastroenterologists and general surgeons to be aware of.
The work-up and management of rectal cancer requires detailed knowledge regarding its precise location. A National Cancer Institute consensus panel recommended that the rectum be defined as 12 cm or less from the anal verge using rigid proctoscopy (Figure 1)[2,3]. Anatomic considerations that distinguish rectal cancers from those that occur in the colon include the narrow and bony confines of the pelvis making surgical resection more difficult and the absence of serosa below the peritoneal reflection which facilitates deeper tumor growth in the perirectal fat, that may contribute to higher rates of locoregional failure[4].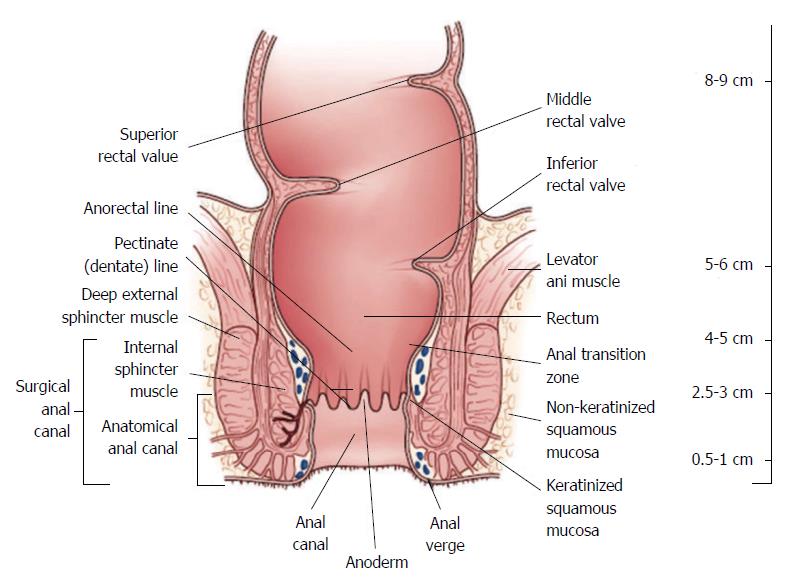 Figure 1 Rectal anatomy and landmarks of importance in the treatment of rectal cancer (Figure reproduced with permission from Apgar et al[3]).
The mainstay of treatment for patients with rectal cancer has been curative surgical resection. Significant improvements in local control and survival have been seen with the implementation of total mesorectal excision (TME) and the addition of neoadjuvant chemoradiotherapy (CRT)[5-9]. Increased use of colonoscopic screening has thought to contribute to disease detection at an earlier stage, which may contribute to improved outcomes as well.
The aim of this is review is to provide an evidence-based overview of the diagnosis, staging and multidisciplinary treatment of primary rectal cancer for primary care providers.
TREATMENT
The goals for treating rectal cancer have broadened to include securing local and distant oncologic control; minimizing treatment-related morbidity and mortality; performing restorative anastomosis to achieve near normal continence and defecation; preserving genitourinary functions; and promoting rapid recovery after resection with prompt return to normal activities.
CONCLUSION
Improved imaging techniques for staging, precise histopathologic assessments and feedback, and multidisciplinary treatment strategies have led to a greater understanding of the natural history of rectal cancer and improved outcomes. With accurate preoperative imaging techniques for staging, such as ERUS and MRI, patient selection for neoadjuvant CRT is constantly improving. Neoadjuvant CRT has been well studied and has been associated with significantly decreased local recurrence but no significant improvement in overall survival. A "watch and wait" approach in selected patients with pCR after neoadjuvant CRT has been postulated but long-term results and expanded experiences are pending. Improved operative results with TME and the ongoing experience with laparoscopic and robotic-assisted techniques have also led to improved outcomes with faster recovery. LE with TAE, TEM or TAMIS should be performed selectively on T1 tumors with favorable clinical and histopathologic features. Management of rectal cancer can be complex and is optimized when approached in a coordinated manner by an experienced multidisciplinary cancer treatment team.
P- Reviewer: Cai SJ S- Editor: Yu J L- Editor: A E- Editor: Wang CH