World J Gastroenterol.
Jan 14, 2015;
21(2): 549-555
Published online Jan 14, 2015. doi: 10.3748/wjg.v21.i2.549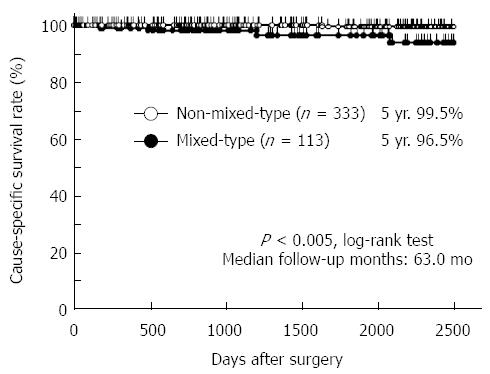 Figure 3 Comparison of cause-specific survival rates between the histological mixed-type and non-mixed-type in stage I gastric cancer. Five-year cause-specific survival rates in two groups, the mixed-type and the non-mixed-type, were analyzed with the Kaplan-Meier method and log rank test. P < 0.05 was considered statistically significant. P < 0.05 vs control.
---
Citation: Komatsu S, Ichikawa D, Miyamae M, Shimizu H, Konishi H, Shiozaki A, Fujiwara H, Okamoto K, Kishimoto M, Otsuji E. Histological mixed-type as an independent prognostic factor in stage I gastric carcinoma. World J Gastroenterol 2015; 21(2): 549-555
---