Copyright
©2012 Baishideng Publishing Group Co.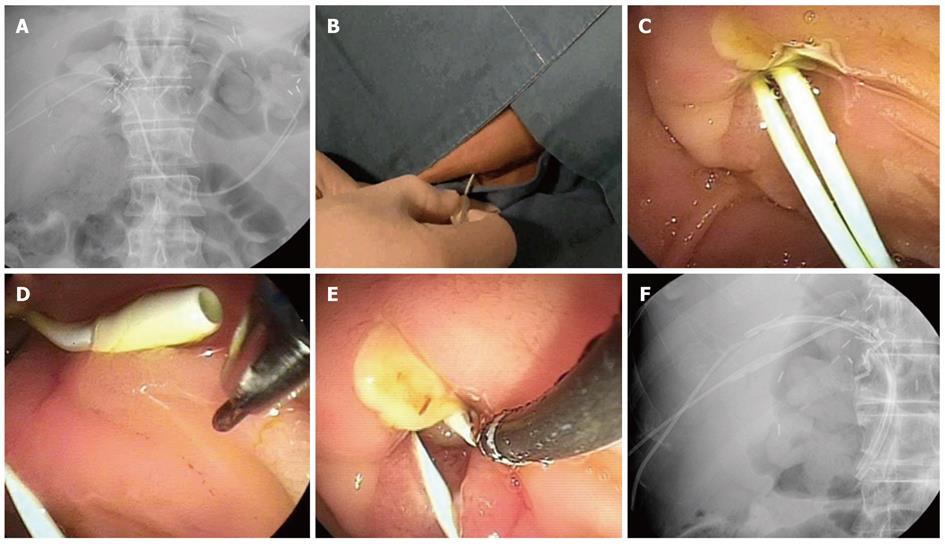 Figure 3 Kumpe catheter technique.
A: Two Kumpe (KMP) catheters were placed along the previous percutaneous transhepatic biliary drainage tracts; B, C: The KMP catheters were located out of the major ampulla in the duodenum; D, E: The KMP catheter was pulled back and rotated to approximate the slightly angulated end of the KMP catheter and the end of the endoscopic retrograde cholangiopancreatography (ERCP) cannula. Then, a preloaded guidewire in the ERCP cannula was advanced through the KMP catheter; F: Two inside stents were placed over the stricture in the anterior and posterior branches of the right hepatic duct of the recipient liver.
---
Citation: Chang JH, Lee IS, Chun HJ, Choi JY, Yoon SK, Kim DG, You YK, Choi MG, Han SW. Comparative study of rendezvous techniques in post-liver transplant biliary stricture. World J Gastroenterol 2012; 18(41): 5957-5964
---