Copyright
©2012 Baishideng Publishing Group Co.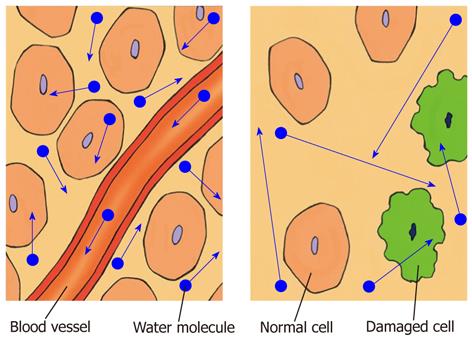 Figure 1 Diffusion of water molecules.
Highly cellular tissues with intact cell membrane restrict the movement of water molecules within intravascular, intracellular, and extracellular space. In contrast, relatively less cellular tissues or damaged cells with defective cellular membrane increase extracellular space, which allow greater water molecule movement.
---
Citation: Lee NK, Kim S, Kim GH, Kim DU, Seo HI, Kim TU, Kang DH, Jang HJ. Diffusion-weighted imaging of biliopancreatic disorders: Correlation with conventional magnetic resonance imaging. World J Gastroenterol 2012; 18(31): 4102-4117
---