Copyright
©2011 Baishideng Publishing Group Co.
World J Gastroenterol.
Feb 28, 2011;
17(8): 976-986
Published online Feb 28, 2011. doi: 10.3748/wjg.v17.i8.976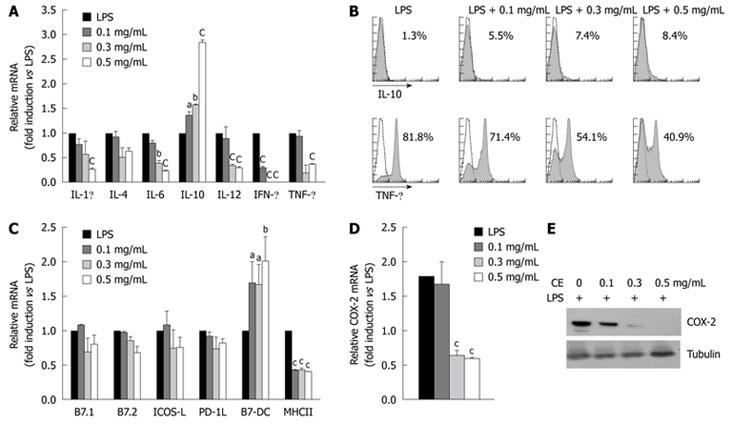 Figure 2 Treatment with cinnamon extract inhibits maturation of MHCII+ APCs. MHCII+ APCs were stimulated with lipopolysaccharide (LPS) alone or in combination with cinnamon extract (0.1, 0.3 and 0.5 mg/mL). Expression levels of cytokines (A) and co-stimulatory molecules (C) were measured by quantitative real-time PCR. B: Intracellular expression levels of interleukin (IL)-10 and tumor necrosis factor (TNF)-α proteins were analyzed by flow cytometry. Effect of cinnamon extract treatment on cyclooxygenase (COX)-2 expression at the mRNA (D) and protein (E) level was measured by quantitative real-time PCR and immunoblotting, respectively. Error bars indicated SD. aP < 0.05, bP < 0.005, cP < 0.001. Data are representative of three individual experiments. IFN: Interferon.
---
Citation: Kwon HK, Hwang JS, Lee CG, So JS, Sahoo A, Im CR, Jeon WK, Ko BS, Lee SH, Park ZY, Im SH. Cinnamon extract suppresses experimental colitis through modulation of antigen-presenting cells. World J Gastroenterol 2011; 17(8): 976-986
---