Copyright
©2009 The WJG Press and Baishideng.
World J Gastroenterol.
Mar 7, 2009;
15(9): 1065-1071
Published online Mar 7, 2009. doi: 10.3748/wjg.15.1065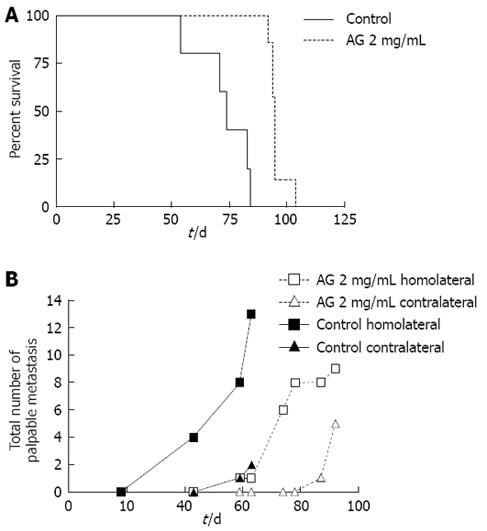 Figure 2 Action of AG on survival and metastases in PANC-1 xenografted mice. A: Time of spontaneous death of mice was determined, Kaplan-Meier survival curves were plotted and median survival was calculated. P < 0.01 for AG vs control, log-rank test; B: The development of palpable homolateral and contralateral metastases, which appeared mainly in lymph nodes, was checked until the death of the animals. Total number of metastases developed in both groups (n = 7 each group) and medians of appearance were determined. Curves were compared by logrank test, P < 0.01.
---
Citation: Mohamad NA, Cricco GP, Sambuco LA, Croci M, Medina VA, Gutiérrez AS, Bergoc RM, Rivera ES, Martín GA. Aminoguanidine impedes human pancreatic tumor growth and metastasis development in nude mice. World J Gastroenterol 2009; 15(9): 1065-1071
---