Copyright
©2009 The WJG Press and Baishideng.
World J Gastroenterol.
Mar 7, 2009;
15(9): 1065-1071
Published online Mar 7, 2009. doi: 10.3748/wjg.15.1065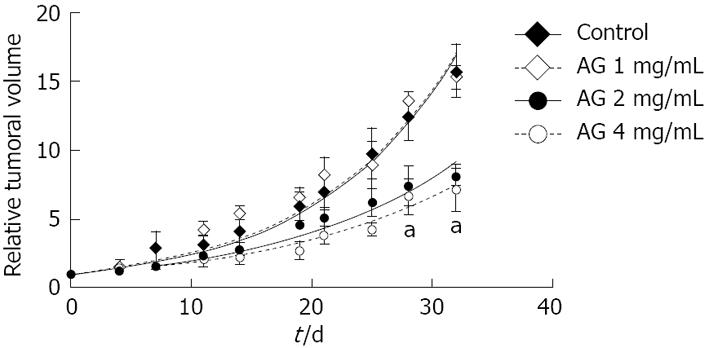 Figure 1 Antitumor effect of AG in PANC-1 xenografted mice. Tumor volumes were determined and referred to the initial volume for each treatment. aP < 0.01 for AG 2 and 4 mg/mL vs control, two way ANOVA and Bonferroni post test.
---
Citation: Mohamad NA, Cricco GP, Sambuco LA, Croci M, Medina VA, Gutiérrez AS, Bergoc RM, Rivera ES, Martín GA. Aminoguanidine impedes human pancreatic tumor growth and metastasis development in nude mice. World J Gastroenterol 2009; 15(9): 1065-1071
---