Copyright
©2009 The WJG Press and Baishideng.
World J Gastroenterol.
Feb 7, 2009;
15(5): 615-621
Published online Feb 7, 2009. doi: 10.3748/wjg.15.615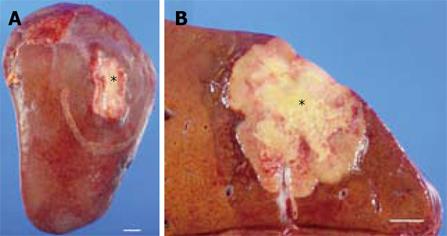 Figure 2 Gross appearance of the tumor.
A: A firm, white and slightly depressed lesion (asterisk) measuring 4.2 cm × 3 cm was identified on the liver surface. B: Cross section of the tumor in the liver. A yellowish-white tumor of 4.4 cm × 3.8 cm was identified just under the hepatic capsule (asterisk). The tumor had well-defined borders and an area of central necrosis. Bar indicates 1 cm.
---
Citation: Sasaki M, Araki I, Yasui T, Kinoshita M, Itatsu K, Nojima T, Nakanuma Y. Primary localized malignant biphasic mesothelioma of the liver in a patient with asbestosis. World J Gastroenterol 2009; 15(5): 615-621
---