Copyright
©2009 The WJG Press and Baishideng.
World J Gastroenterol.
Mar 21, 2009;
15(11): 1394-1397
Published online Mar 21, 2009. doi: 10.3748/wjg.15.1394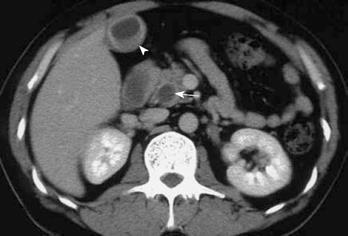 Figure 1 CT demonstrating dilatation of both the intrahepatic and extrahepatic bile ducts, diffuse thickening of the wall of the extrahepatic bile duct (arrow), and thickening of the gallbladder wall (arrowhead).
---
Citation: Miura F, Asano T, Amano H, Yoshida M, Toyota N, Wada K, Kato K, Takada T, Fukushima J, Kondo F, Takikawa H. Resected case of eosinophilic cholangiopathy presenting with secondary sclerosing cholangitis. World J Gastroenterol 2009; 15(11): 1394-1397
---