Copyright
©2008 The WJG Press and Baishideng.
World J Gastroenterol.
Jun 21, 2008;
14(23): 3754-3758
Published online Jun 21, 2008. doi: 10.3748/wjg.14.3754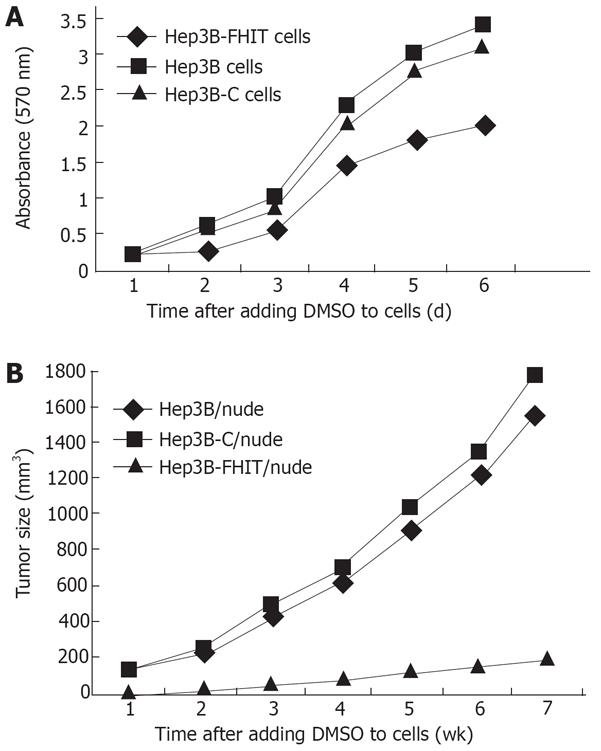 Figure 3 Growth curves. A: Growth curves of human hepatocellular carcinoma cells. Luminous absorbance of Hep3B-FHIT, Hep3B-C and Hep3B cells was measured by ELISA (wavelength of 570 nm) after DMSO was added. The measurement was done once a day for 6 d; B: Growth curves of tumors after implantation of Hep3B, Hep3B-C or Hep3B-FHIT cells in nude mice. The mice were injected sc with 1 × 107 (0.15 mL/mouse) Hep3B, Hep3B-C or Hep3B-FHIT cells. After implantation, tumor growth was detected weekly.
---
Citation: Xu RH, Zheng LY, He DL, Tong J, Zheng LP, Zheng WP, Meng J, Xia LP, Wang CJ, Yi JL. Effect of fragile histidine triad gene transduction on proliferation and apoptosis of human hepatocellular carcinoma cells. World J Gastroenterol 2008; 14(23): 3754-3758
---