Copyright
©2007 Baishideng Publishing Group Co.
World J Gastroenterol.
Jan 21, 2007;
13(3): 349-354
Published online Jan 21, 2007. doi: 10.3748/wjg.v13.i3.349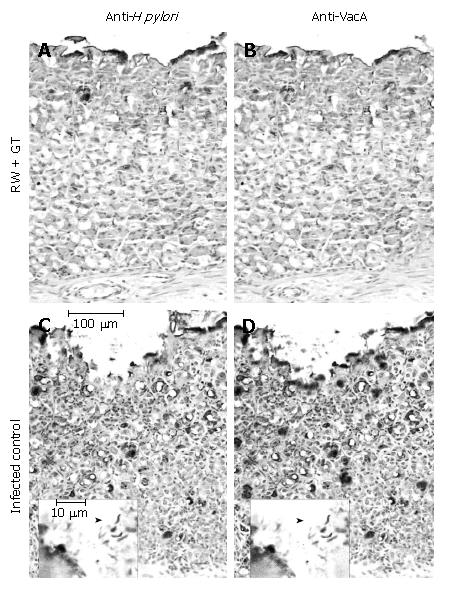 Figure 1 Representative images of IHC detection of H pylori (A and C) or VacA (B and D) in gastric mucosa sections from H pylori-infected mice in the presence (A and B) or in the absence (C and D) of RW + GT treatment. In the gastric epithelium of infected controls (C and D, adjacent sections) H pylori and VacA are detectable with a similar pattern, both superficially and deeply, while upon RW + GT treatment (A and B, adjacent sections) the immunostaining is mainly confined to the surface of the epithelium. Inserts at larger magnification show typical H pylori morphology (arrowheads).
---
Citation: Ruggiero P, Rossi G, Tombola F, Pancotto L, Lauretti L, Del Giudice G, Zoratti M. Red wine and green tea reduce H pylori- or VacA-induced gastritis in a mouse model. World J Gastroenterol 2007; 13(3): 349-354
---