Copyright
©2006 Baishideng Publishing Group Co.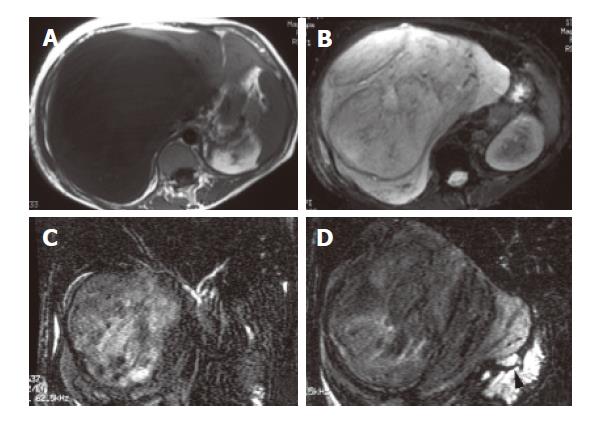 Figure 2 Preoperative MRI images.
A: T1-weighted;B:fat-supressed T2-weighted;B and C: MR Cholangiography. The tumor appeared hypointense on T1-weighted images (A) and hyperintense on fat-suppressed T2-weighted images (B). MR cholangiography revealed that the tumor compressed the right lobe of the liver to the cranial side (C) and gallbladder to the medial-caudal side(arrow head:gallbladder) (D).
---
Citation: Hamada T, Yamagiwa K, Okanami Y, Fujii K, Nakamura I, Mizuno S, Yokoi H, Isaji S, Uemoto S. Primary liposarcoma of gallbladder diagnosed by preoperative imagings: A case report and review of literature. World J Gastroenterol 2006; 12(9): 1472-1475
---