Copyright
©2006 Baishideng Publishing Group Co.
, Limited. All rights reserved.
Effects of hyperbaric oxygen and Pgg-glucan on ischemic colon anastomosis
Suna Guzel, Oguzhan Sunamak, Abdullah AS, Muhammed MK Nuri, Department of General Surgery, Cerrahpasa Faculty of Medicine, Istanbul, Turkey
Varol Celik, Ertugrul Gazioglu, Mehmet FErahman, Department of General Surgery, Cerrahpasa Faculty of Medicine, Istanbul, Turkey
Pinar Atukeren, Department of Biochemistry, Cerrahpasa Faculty of Medicine, Istanbul, Turkey
Ozgur Mutlu, Department of Underwater and Hyperbaric Oxygen, Istanbul Faculty of Medicine, Istanbul, Turkey
Correspondence to: Oguzhan Sunamak, MD, Inebolu Devlet Hastanesi 375000 Inebolu, Kastamonu, Turkey. toredr@yahoo.com
Telephone: +90-53-32435155 Fax: +90-21-63106398
Received: March 14, 2005
Revised: May 1, 2005
Accepted: June 16, 2005
Published online: March 7, 2006

AIM: In colorectal surgery, anastomotic failure is still a problem in ischemia. Here, we analyzed the effects of hyperbaric oxygen and beta-glucan on colon anastomoses in ischemic condition.
METHODS: Colonic resection and anastomosis in rectosigmoid region were done in forty Wistar-Albino rats of four groups of equal number. Colon mesentery was ligated to induce ischemia. The first group was the control group. The subjects of second group were treated with hyperbaric oxygen; the third group with glucan and the forth group were treated with both. At the forth day, rats were sacrificed, anastomotic segment was resected and burst pressures and hydroxyproline levels of anastomotic line were measured.
RESULTS: The burst pressure difference of second and third groups from the control group were meaningful (P < 0.01); the forth group differed significantly from the control (P < 0.001). There was no difference between the treated groups on burst pressure level (P > 0.05). The hydroxyproline levels in all treated groups were different from the control group significantly (P < 0.001). Hydroxyproline levels in the forth group were higher than those of the second and the third groups (P < 0.001). There were no significant differences between the second and the fourth groups in burst pressure and hydroxyproline levels (P > 0.05).
CONCLUSION: Hyperbaric oxygen and glucan improve healing in ischemic colon anastomoses by anti-microbic, immune stimulating properties and seem to act synergistically when combined together.
---
Citation: Guzel S, Sunamak O, AS A, Celik V, Ferahman M, Nuri MM, Gazioglu E, Atukeren P, Mutlu O. Effects of hyperbaric oxygen and Pgg-glucan on ischemic colon anastomosis. World J Gastroenterol 2006; 12(9): 1421-1425
---
INTRODUCTION
Insufficient anastomosis healing and resulting anastomotic leakage is still a big problem in colorectal surgery[1,2]. Colon is very riskful to leak due to its rich bacterial flora and insufficient collateral circulation[3].
There are systemic and local factors affecting wound healing. Ischemia and local infection are the two most important factors that interrupt healing[4-7]. Hyperbaric oxygen (HBO) and β-1, 3-glucan are two new subjects of search to overcome these problems.
HBO therapy means the inhalation of 100% oxygen in a high pressure-environment. It is adjuvant to surgery. It causes an increase in plasma oxygen level by 20-25%, thus increasing tissue oxygenation. Its current use is in the treatment of air emboli, carbon monoxide intoxication and as an adjuvant to surgery in some diseases[8].
Its effects include an increase in tissue perfusion by both increasing oxygen level in blood and redistributing oxygen from normal tissues to the ischemic ones via vasoconstriction. It also increases angiogenesis and improves inflammatory cell functions, which are necessary for healing[8-10]. β-1, 3-Glucan is a glucose polymer obtained from cereals, yeasts, and fungi. It was found to have some immune-modulatory effects. It stimulates complement system and macrophages[11]. It has anti-bacterial, anti-tumoral, anti-fungal, and wound-healing properties.
In this study, we analyzed the effects of HBO and β-1, 3-glucan on ischemic colon-anastomosis model.
MATERIALS AND METHODS
This experimental study was held in Cerrahpasa Medical Faculty. Forty Wistar-albino female rats of 180-220 g were used. They were divided into four groups of equal number. All rats were kept in constant environmental conditions. Without making colonic preparation, all subjects were anesthetized with intramuscular ketamine (Ketala 50 mg/kg) and ether inhalation. Weight of the rats were measured and recorded. Operations were done in a randomized fashion. Abdominal wall was shaved and Povidone–Iodine solution of 10% was used for cleaning. Median laparotomy was performed. Ischemia was formed in a 4 cm-colonic segment, 3 cm proximal to peritoneal reflection, by ligating marginal arteries and vasa recti with 4/0 silk. The ischemic segment was resected at mid-point and reanastomosed end to end with 6/0 polypropylene suture. Abdominal fascia and skin were closed. Oral feeding was started at the 24th h postoperatively. First group was the control group and no further treatment was given following anastomosis. The subjects of the second group were started HBO at the 3rd h after surgery. The rats in the third group were given 20 mg soluble β-1, 3-glucan intraperitoneally following anastomosis. The fourth group was treated with HBO and β-1, 3-Glucan together. All rats were killed on the 4th postoperative day under ether anesthesia. Healing of anastomosis was evaluated by measuring burst pressure and hydroxyproline level.
HBO treatment was started at the 3rd h of operation and continued for 4 d. Before HBO treatment, pressure cabin was washed out with 1 ATA oxygen for 10 min. HBO was given as oxygen of 100% at 2.5 ATA for 60 min. Total treatment time was 80 min, including pressure increase and decrease periods of 10 min for each. The number of HBO treatment was 14 in total, which were four times in a day for the first 2 d and three times in a day for the last 2 d.
At the end of the 4th post-operative day, relaparotomy was done. The colon was clamped at 2 cm distal to anastomosis and resected at 2 cm proximal to it. Burst pressure was measured by an insufflation pump that was sealed intraluminally in the proximal tip of the segment. Insufflation was at a constant value of 6 mL/min under the water and the pressure level where air bubbles were seen on anastomosis line that was accepted as burst pressure value.
The colonic segment 0.5 cm proximal and 0.5 cm distal of anastomosis line was resected, weighed and homogenized in serum physiologic solution to 20% (20% g/mL) homogenisates by using a Potter type glass homogenisator (Heidolphy - RZR 2021, Germany). Homogenisates were centrifuged at 1 500 r/min for 15 min and obtained supernatants were hydrolyzed by adding hydrochloric acid of equal amounts for 16-18 h. Using the hydroxyproline kit (Hipronisticon, Organon, Holland) working on the principles of Stegeman and Stadler, hydroxyprolene amount was calculated in microgram per milligram of wet tissue by reading the absorbance of solution on spectrometry at 560 nm.
statistical analysis
The values were expressed as mean ± SD. Differences between groups were evaluated with ANOVA method by using SSPS 10.0 program. Differences within the same group were evaluated with instat test. The values with P < 0.05 were statistically significant.
RESULTS
There were no deaths during anesthesia or surgical procedure. In all subjects, the burst of the colon was on the anastomotic line. Burst pressure values and standard deviations of groups are shown in Table 1 and Figure 1.
| | | | |
| --- | --- | --- | --- |
| Control | HBO | PGG-Glucan | HBO+PGG-Glucan |
| 80 | 80 | 90 | 110 |
| 40 | 80 | 120 | 140 |
| 70 | 130 | 140 | 95 |
| 80 | 130 | 100 | 100 |
| 100 | 105 | 80 | 140 |
| 60 | 80 | 100 | 100 |
| 55 | 120 | 90 | 120 |
| 70 | 110 | 90 | 130 |
| 80 | 100 | 110 | 120 |
| 60 | 105 | 120 | 110 |
| 69.5±16.7 | 104±19.4b | 104±18.3b | 116.5±16.3d |
On the comparison of the burst pressure values of the second, third and fourth group to those of control group, results of second and third group showed a significant difference (P < 0.01); results of fourth group showed a very significant difference (P < 0.001, Figure 2).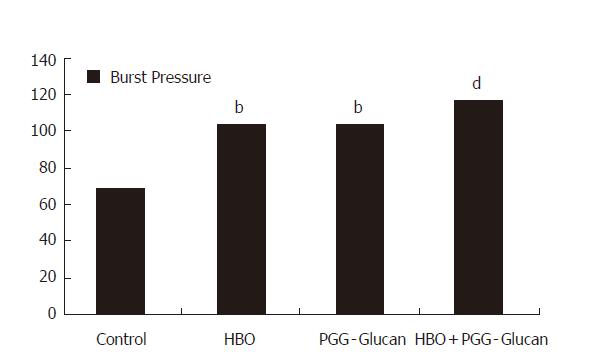 Figure 2 Burst pressure compartment between groups (mm/Hg). bp < 0.01 significant compared to the control group. dp < 0.001 very significant compared to the control group.
There was no significant difference between the second and third groups (P > 0.05). Also, there was no significant difference when the fourth group was compared to second and third groups (P > 0.05, Figure 2).
When the groups were compared on the level of tissue hydroxyproline (Table 2), there were significant differences in the results of all treated groups compared to that of the control group (P < 0.001, Figures 3 and 4).
| | | | |
| --- | --- | --- | --- |
| Control | HBO | PGG-Glucan | HBO+PGG-Glucan |
| 0.4416 | 1.1584 | 0.8056 | 2.2144 |
| 0.4672 | 0.9696 | 0.7264 | 2.192 |
| 0.5592 | 1.3296 | 0.7736 | 2.208 |
| 0.4012 | 1.2384 | 1.3312 | 1.6256 |
| 0.3904 | 1.1072 | 0.9984 | 2.0352 |
| 0.3712 | 1.3312 | 0.9664 | 1.921 |
| 0.4096 | 1.3376 | 1.221 | 2.1533 |
| 0.4213 | 1.2672 | 1.1072 | 2.2455 |
| 0.3517 | 1.2234 | 1.2843 | 2.2612 |
| 0.5063 | 1.2122 | 1.3152 | 2.192 |
| 0.43±0.06 | 1.21±0.11b | 1.05±0.23b | 2.1±0.19bdf |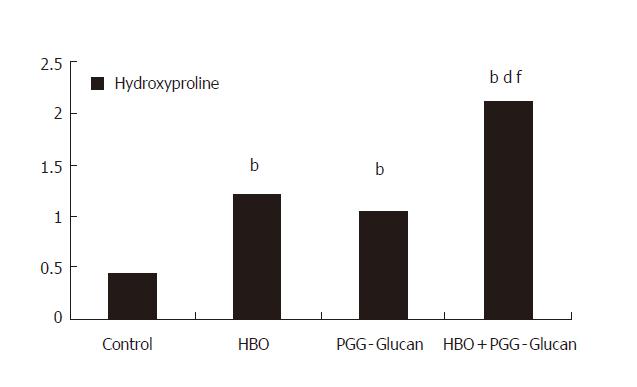 Figure 4 Comparison of Hydroxyproline levels (mcg/mg wet tissue). bP < 0.001 very significant compared to the control group. dP < 0.001 very significant compared to HBO group. fP< 0.001 very significant compared to HBO+PGG-Glucan group.
When the results of the second group and third group were compared, no significant difference was determined (P > 0.05) but, when the results of fourth group were compared to those of second and third groups respectively, significant differences were found (P < 0.001, Figure 4).
DISCUSSION
Though there is advancement in techniques, complications in colorectal anastomosis is still a big problem with high mortality and morbidity, especially in ischemic circumstances[12]. Leakage of anastomosis has been reported to be 0-30%. In a series of 1 446 patients, the leakage rate was reported as 13%[2]. Radiological studies revealed that the leakage rate might be up to 51%[13].
There are local factors like infection, perfusion, suture materials, surgical techniques and systemic factors like systemic diseases, septicemia, malnutrition that affect healing[14]. Insufficient oxygenation is one of the most important factor.
Hypoxia interrupts wound healing. If oxygenation of tissue is disrupted due to local damage and anaerobic infection present, HBO therapy may be useful[15]. In experimental studies it was found that oxygen and antibiotics had an additive effect and HBO was more effective under hypoxic conditions where antibiotics were less effective[16,17].
Oxygen is necessary for oxidative function of neutrophils, activation of leukocytes, fibroblast production, angiogenesis, and re-epithelialization, which are of great importance in wound healing[18-21]. Hypoxia also disrupts collagen synthesis and decreases stretching force of the healing wound[22].
Tissue oxygenation is provided by blood volume, tissue perfusion and intra-arterial oxygen saturation[22,23]. HBO increases intra-arterial oxygen saturation thus partial oxygen pressure in tissue, which accelerate wound healing[5,21,24]. HBO was reported to be useful in the treatment of different kinds of problematic wounds; it improved survival of skin grafts, decreased mortality and morbidity in clostridial myonecrosis, accelerated healing of burns, increased re-epithelialization of both normal and ischemic tissues, decreased size of wound and wound complications of diabetes mellitus[25,26].
In a study on the patients who underwent colorectal surgery, a direct relationship between subcutaneous partial oxygen pressure and postoperative wound infection was detected. In this study, although increasing the concentration of oxygen in inhalational air, subcutaneous oxygen concentration did not increase and, 45% of patients were infected postoperatively. On the contrary, when tissue was perfused with a partial oxygen pressure higher than 90 mmHg, there was no infection in any of the patients[27].
The mechanism that HBO improves healing is still uncertain. It is thought that HBO affects in the same way in both ischemic and non-ischemic wounds, because all wounds are ischemic in the first period of healing[18].
A perianastomotic oxygen pressure less than 20 mmHg was shown to result in a major leakage in 100% of subjects and increasing the pressure, rate, and quantity of leakage decreased[12]. On the contrary, Kirk and Irvin reported oxygen had no significant effect on anastomotic and dermal healing. But, these scientists used normobaric oxygen of 50%, and not hyperbaric[28].
Mechanism of HBO may be also on accelerating angiogenesis and re-epithelialization process, which are two main phases of wound healing[24,25]. Increase in oxygen was found to increase energy metabolism, thus ADP and ATP in wounds and to result increase in collagen synthesis[23]. In trauma patients, oxygen decreases in wounds, which interrupts healing and increases infection risk[7]. Infection of the mucosa was shown to decrease oxygenation of tissue fibroblasts, spoiling healing. Enteric flora makes colon very prone to postoperative infections.
HBO decreases postischemic edema formation by vasoconstriction in normal tissues, which disrupts wound healing[29]. Intermittent hyperoxygenation makes it more effective; hypoxic periods increases cytokines which increase healing and, cell response to them is also oxygen dependent[30]. This is called oxygen paradox. It has also anti-bacterial effect[17,27]. Thus, HBO has a double-effect. In our study, statistical significance of increase in burst pressure and hydroxyproline level in second group correlates to the findings that HBO increases healing of anastomosis in ischemic colon.
It has also some complications such as oxygen toxicity, air embolization, and pneumothorax. Its cost, need of frequent application and difficulty in providing medical support are its disadvantages. But, it decreases mortality and morbidity in surgical patients. Its benefits are more than disadvantages. If applied by a specialist, it can be a useful adjuvant in high-risk patients. Moreover, combination with glucan may be more effective.
Immunosuppression is a significant problem in surgical patients. Some causes such as decrease in circulating T-cell number, decrease in lymphoblast transformation, inhibition of leukocyte migration, decrease in cellular immunity and reticulo-endothelial system activity had been proposed. Immunosuppression makes wound more prone to infection, interrupts wound healing and results in failure of anastomosis[31,32].
β-1, 3-Glucans are glucose polymers in the cell walls of yeasts. They have immune-modulating, anti-bacterial, and anti-tumor effects[11,34,35].
β-Glucans activate both humoral and cellular immunity (Wooles and Di Luzio, 1962). They act in a dose-dependent way by binding the receptors on human neutrophils, monocytes, and macrophages. They activate macrophages and increase phagocytotic activity of neutrophils[36]. Macrophages are key cells in wound healing. These cells produce humoral factors, which controls fibroplasia, fibrogenesis, and angiogenesis[37,38]. They also control energy metabolism of wounds. Cytokines like IL-1 from activated macrophages are secreted. These products result in fibroblast activation and proliferation thus increase collagen production and cross-linking between collagen. Macrophages also increase angiogenesis[39]. Although studies analyzing the effects of macrophage activation on colonic anastomosis exist, there is no study that searched its effects in ischemic conditions. Glucans were shown to increase tensile strength of the wound[39].
Having some adverse effects like headache, tiredness, stomatitis, pharyngitis, glucans are nontoxic, nonimmunogenic and apyrogenic substances[40]. Glucans were reported to be safe and effective in decreasing morbidity and cost of a major surgery[41].
In our study, the burst pressure and hydroxyproline levels in glucan group were found to be significantly different from that of the control (P < 0.01 and P < 0.001), suggesting that glucan has an increasing effect on early collagen cross-linking, which improves healing. Our results correlate to the previous studies which showed that glucan improved healing.
On burst pressure levels, groups 2 and 3 differed from the control (P < 0.01). Comparisons between groups 2 and 3 in each other, and between these 2 and 4 groups show no difference (P > 0.05).
Hydroxyproline is present only in collagen (14%) and elastine (2%) in animals. Thus, it is a good marker in wound healing. In our study, hydroxyproline level of all groups differed from the control very significantly (P < 0.001). Also, the levels in group 4 were significantly different from groups 2 and 3 (P < 0.001). There were no differences between groups 2 and 3 (P > 0.05).
The use of HBO and PGG-glucan together seems to act synergistically to increase wound tensile strength. We think that the reason for this synergistic effect not seen on burst pressure is due to ischemia related ileus, which affects measurements. Also, the finding burst pressures of group 4 differ very significantly from the control supports that HBO plus PGG-glucan is more effective on wound healing.
As a result, we think that this study showed benefical effects of HBO and PGG-glucan on healing of bowel anastomoses experimentally but, we need advanced clinical research in future.
S- Editor Guo SY L- Editor Elsevier HK E- Editor Ma WH