Copyright
©2006 Baishideng Publishing Group Co.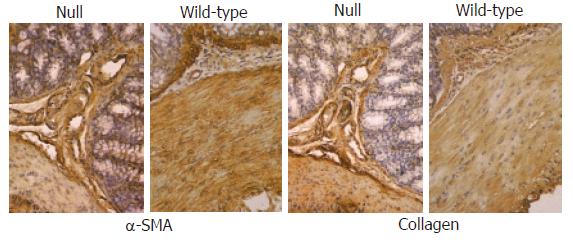 Figure 7 Immunohistochemical analysis (x 20) of α-SMA and collagens I-VII in colon from Smad3 null and wild-type mice.
A similar localization of α-SMA antibody was found in miocytes of muscularis mucosae, muscle layer and vessels of both groups of animals. Staining of collagens I-VII in large intestine of Smad3 null and wild-type mice was localized mainly within connective tissue of submucosa and muscularis propria showing identical staining pattern between the two groups of mice.
---
Citation: Zanninelli G, Vetuschi A, Sferra R, D'Angelo A, Fratticci A, Continenza MA, Chiaramonte M, Gaudio E, Caprilli R, Latella G. Smad3 knock-out mice as a useful model to study intestinal fibrogenesis. World J Gastroenterol 2006; 12(8): 1211-1218
---